WURZBURG MARATHON 13/05/18
Richard and I run Wurzburg in Southern Germany for a few reasons. My sister lives not so far away in Heidelberg so we can go and stay with her afterwards. Sadly her lovely husband Bruno has passed away recently after a long battle with prostate cancer. I've already been over twice earlier in the year. I get on great with my sister and although she will be going through a time of grief she is a strong independent minded person and I know we are going to have an enjoyable time together. I am going to be there for just over a week and Richard is staying on with us for a few days.

But first Wurzburg. It's about an hour's train ride from Frankfurt Airport and we are staying at the G Hotel which turns out to be an ideal place and is twenty minutes walk from the start. We register the day before and wander around the touristy old town centre before heading back to the hotel to rest and eat. It's not really quite an old town as in common with a lot of German cities it was bombed heavily in the war. The old town has been rebuilt in a close copy of the original.
By the time we get to the start line on the Monday morning we are in pretty good shape. We've been for a short loosening run in the woods the day before and I've repeated it early in the morning to get my system moving. That's worked and I'm also feeling nicely hydrated and have had the right sort of light breakfast. The only downside is it is unusually hot for the time of year and also very humid. There are thunderstorms due which should clear all this up and we are hoping they will arrive early in the race.
One of the reasons we are doing this marathon is we are hoping for a Boston qualifying time. As most of you will know Boston is the United State's oldest and most iconic marathon and entry is by qualifying time only. I've comfortably been inside the time every year recently but we now have to try and achieve it for the 2019 version which we have set our sights on.

Because of our age difference the qualifying standards are 3.55 for me and 3.40 for Richard. However because it is oversubscribed nowadays, particularly since the 2013 bombing, in practice we need to be well inside this. Richard is targetting 3.35 and I am looking at 3.50. Last year at London I ran 3.46.47 so a repeat of that would do. My build up has been pretty good and I hope I have recovered from last year's anaemia.

The start is outside the Congress Centrum in a narrow street and the atmosphere is good amongst the marathon and half marathon runners who are going off together. We are going to do two laps and there is going to be a 10K relay of some kind joining from another place on the route later on.

We are off to the strains of We Are The Champions and ACDC's Rock n Roll Train.

After a left turn across the river bridge there is a bit of a downhill to the first mile '7.46' announces Richard. Oh dear. I've decided before the start not to go with Richard but see if I am brave enough to hold back over the first half and try and go for a negative split. I want to run about 1.52.30 for the first half rather than my usual close to 1.45, after which I usually try and fail to hang on.

I deliberately drop back away from Richard and the 3.30 pacer after a few miles and all is well for the next while apart from the already increasing heat and stifling humidity. The thunderstorms are holding back and watching us slowly melt. I pour water over my back, front and head at every one of the plentiful and well stocked drink stations but already it is much harder than it should be. Am I over-trained? Stressed about my mum? Challenged by the conditions? Or just old! The usual mental battle has begun too early really. We are out amongst the suburbs and some countryside along the river. It is - well flattish but undulating and on the incline up to one of the bridges I am beginning to struggle. Then we are into the old town but there is a big loop around the city centre with faster runners coming back the other way on one of the main streets.. This is common in city marathons and has already happened on a couple of out and back sections. There are always runners ahead and behind me and of course it feels better to be coming back on the faster side of the road.

The loop seems endless but the live bands are great and there is the most support here. Finally I am back running along the final stretch of river to the Congress Centrum where we full marathon runners are directed around an intricate little route away from the cheers of the half marathon finish and back out onto the bridge for lap two. I miss the halfway marker but there has been a 20K timing mat and I work out I am bang on schedule at around 1.52. The trouble is I am working way too hard and the downhill section at the start of the second lap doesn't have nearly the positive effect it had at the start. The thunderstorms continue to laugh at us from the sidelines. I see the first runner being wheeled into an ambulance after only 10K and there are going to be a lot more casualties. It is turning into a major sufferfest.

The second lap grinds on and I am back in the rural undulating section. The half marathon has finished but there are a few runners alongside me who I don't expect to see at this pace in a marathon. It is only now I realise the 10K relay runners are mixed in and I notice some differently labelled bib numbers.

I've gone over to desperation at the aid stations and I'm quaffing the deadly Coca Cola. I know it's taking money out of the energy bank that I don't have but I need the cash. The 3.45 pacers go past me and I can't begin to hang with them, it's slipping away from me. This is when it gets so psychologically hard. I'm taking some walk breaks but they are short and I quickly kick back into the death shuffle. The atmosphere is stifling. But - this is what I signed up for, these are the tough ones that test us. I worry about letting Richard down, he is a hell of a tough cookie and I'm sure he is going to be on track. After all - he broke his all time 10K PB at a Race to the Sun event in the Olympic Park an month or so ago. That record was from 2009! It was an outstanding performance to break it nine years later. I'm not sure if he has done enough long runs in his training for this marathon though.

We are back in the centre. I wonder if I'll see Richard coming the other way on the two way section. There's no sign of him but it is only short. The loop however goes on forever. Finally I am back on the tram tracks on the Schonbornstrasse. I'm not paying too much attention to my watch but there is another kilometre marker up ahead. I sort of know it is 40K but maybe I have miscounted and it is 41K. Some fantasy. It is the 40K point of course and my watch shows 3.44 plus. I've failed, even if I could hold my old 5 min/km marathon pace I'd be too close to the 3.55 qualifying time to get into Boston. Last year it was 3 minutes 23 seconds inside. Anyway it is academic because I can't run that pace at this point. Finally I am turning up into the short curved street we started from and the finish line arrives. 3.58.43. Richard is in the crowd just beyond the finish line. I shake my head ruefully. He shakes his – I don't know if this is for his performance or mine. It is his – 3.52.30. At least we have both failed together. I am staggering and weaving a bit and we head into the sports hall to collect our drop bags, nip to the loo, have something to drink and eat and sit down. I go for some kind of flat apple pastry and some water. We sit in the strong sunshine on a bench outside staring into space and dissecting the race. We've both been beaten by the conditions and maybe there wasn't much we could have done. Richard tells me one of the pacers collapsed and was carried off. It is a deflating walk back to the hotel but it's another marathon completed and we've given what we had.

We have a lie down on our beds and a quiet evening eating in the hotel. But tomorrow is another day and we head for Heidelberg and spend a lovely few days with my sister, eating nice food, wandering around the town and taking a gorgeous boat trip up the Neckar river.

Richard goes back to London on the Thursday and I head out for my first run along the river the next day. Saturday I get the train into Mannheim early to run my first parkrun abroad before spending a wonderful afternoon with Jacqueline wandering around the markets, window shopping the amazing cake shops and sitting outside a Turkish cafe eating aubergine bake.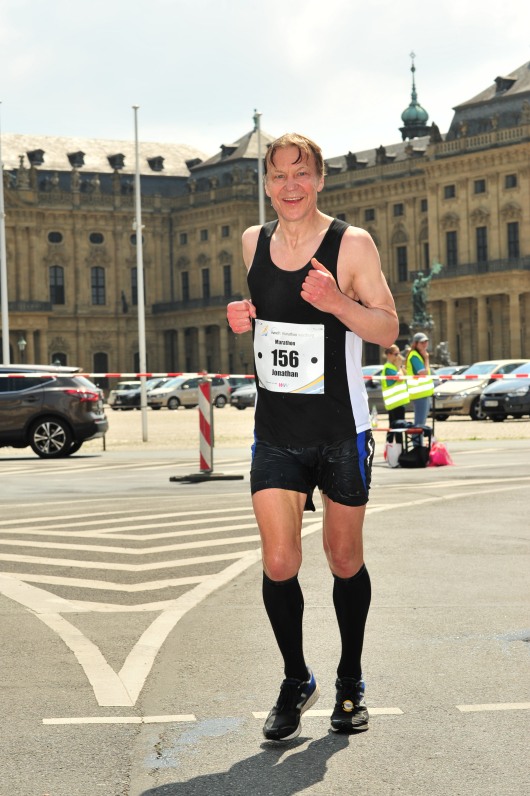 Smiling through the death shuffle.
You can get a sense of the humidity from my soaked singlet and shorts. No I haven't wee'd myself!