TUNBRIDGE WELLS HALF MARATHON 2009
Early in 2009 I finally felt clear of the chest infection. Richard and I had decided not to run a spring marathon but concentrate on trying to get a bit faster over shorter distances. First up was the Tunbridge Wells Half which I have gone on to run five times so far. It is a popular and highly regarded event around the Kent lanes. The course is circular and very undulating with the notorious 280 foot climb at Spring Hill after about seven miles. I've no idea why but I've grown to love this race - the scenery is gorgeous but I'm usually staring blankly at the road ahead. It's just a very well organised running club event I guess.
On this first outing I managed 1.42.42 which was a comfortable PB over my previous two efforts. Richard once again took me down with 1.41.47.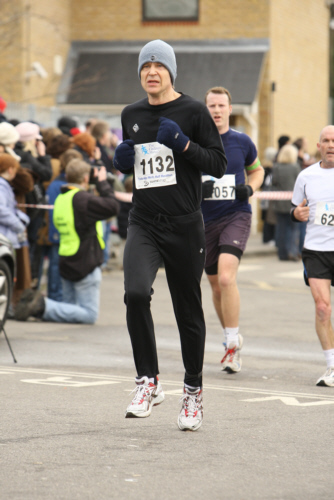 Looking grim on the run in
With Richard post race in my favourite running hat, lost it about 2014