STOCKHOLM MARATHON 2008
I was getting quite serious with my running now and training went well through the winter and early spring. I was using the same generic marathon plan as for Cracovia the previous year, I found this on the web and it served me well in the early days. I had also joined the Gooid Run Guide, a great website for mapping, tracking and logging routes and runs which i still use today.
https://www.goodrunguide.co.uk/
Three weeks before the marathon I was confident of doing well and I did my last 20 mile run before tapering. It was the first really hot day of spring and I ran out of water by halfway, coming back along the Thames Path with about six miles to go I became completely dehydrated. I had no money with me but the Ecology Centre came to my rescue with a glass of water. I carried on home after that but by the next day I had started coughing, in my depleted state I had picked up a viral chest infection which was to come and go and plague me for the rest of the year. For the next three weeks I trid a few recovery runs which were very hard work and I doubted my ability to run the marathon at all. In truth I should probably have withdrawn but all the travel and accomodation was booked. Bing, Ricchard, Pete and Paul Cuff were coming along for the weekend with three of us running.
Registering for the marathon the day before was entertaining, the race starts and finishes in the 1912 Olympic Stadium which is where registration took place as well and there was a Kiss concert on that evening. So there were two distinct tribes making their way on the train and along the subway to the event, gaunt runners in tracksuits etc. and fully made up Kiss fans in platform boots.
The next day we lined up at the start. With the adrenaline of the event I felt fine at this stage despite the lingering chest infection. This was a much bigger field than my first marathon and my first experience of a bit of congestion at the start, being rookies we wasted energy weaving our way past slower runners for the first couple of miles before settling into a groove. The course is a double lap around the beautiful city of Stockholm, mainly fairly flat but with a big hump over the 600+ metre long Vasterbron bridge on each lap. I was running with Richard, it was quite a hot day but we made steady progress to halfway in 1.55.47.
Richard on the right running with a madman
Just after this I started to struggle but managed to keep the pace going without too disastrous a drop off until 40km. Richard had got a bit ahead and I worked really hard to reel him in, made it back but promptly got a cramp and had to stretch it out. Struggled home in 4.03.09 which was disappointing but decent in the circumstances. Richard was in at 4.02.26. Pete was finished about 15 minutes later.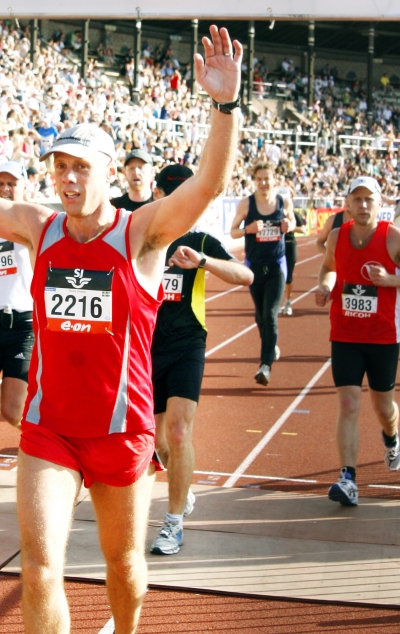 Nearly there
Nearly nearly there
There
As usual, I have aged 20 years at the finish line
I felt fine in the post marathon glow but started to feel really ill on the underground train back and fell into bed for a few hours.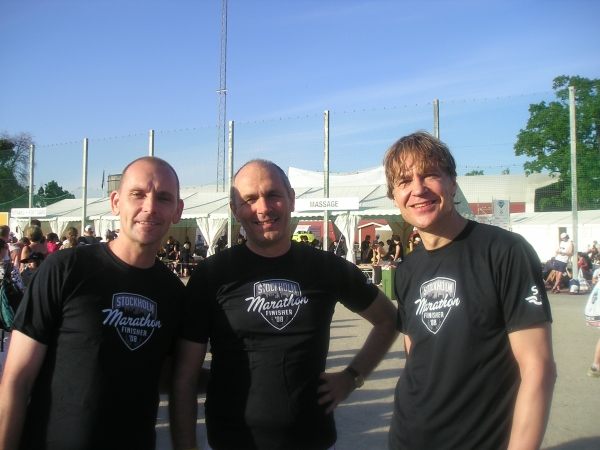 One of the nice things about Stockholm is the marathon takes place on Saturday afternoon, it is such a beautiful city and we had a couple of days to see around and take a boat trip to Vaxholm.