ROBIN HOOD 100 17/09/17
It is race time. 100 miles is the blue riband ultra distance for me and this one is a big challenge I've been building up to through the last few years of 50 plus milers.
Moira and Lauren are my support crew for the weekend and we drive up after Lauren's school finishes on the Friday. I don't know if it is just pre-race nerves, worries about the rush hour traffic and whether I will therefore get enough sleep but I start to feel absolutely terrible. I have an awful headache and I try to keep it to myself but I briefly succumb to saying something like 'I'll see how I feel in the morning, 'I won't run if I'm ill' etc. etc. The headache is real alright but I also know it could well be psychosomatic so I shut up and concentrate on trying to relax, breathe and steady my racing heart. This is partially successful. I'm in the back seat and I try to stretch my legs out as much as possible to take the pressure off my knees and relax my calves. I know there will be no time to eat at the hotel when we get there so I buy some food from the service station supermarket and some extra bits for the morning. I can't remember what all of it was but there is a couple of healthy salad things in those environmentally unacceptable plastic containers, some coconut water, yoghurt and bananas etc. We ring the hotel and we are going to be too late for the restaurant or bar food so Moira and Lauren get some as well.
We are staying in the Best Western Hotel in Retford which is only a few miles from the start. I reflect that if I was on my own as I originally envisaged I'd be walking to the start in the morning as it is a small village and it would be too early for taxis. The hotel is absolutely fine in a slightly old fashioned way. I have a cup of tea and something to eat and get to bed as quickly as possible.
Next morning I wake early as I always do. My headache is gone and I'm feeling great! I have a modest breakfast and go for a short warm up run to get my digestive system moving, as usual this is my major worry but the tactic is successful again and in plenty of time I am ready to go with my backpack checked and prepared. I am keeping it as light as possible and because we can have a drop bag at one of the checkpoints it is very minimal with pretty much just the mandatory race kit. The drop bag is stuffed however with spare shoes and socks, the new base layer I have bought which I think I will wear through the night, a few things I won't need and extra supplies of my home made energy balls. I have a few in my backpack as well. I've made up the recipe for these out of all the things I have tried on runs which I know work plus a few more. So they are a mix of dates, cashews, pecan nuts, mixed seeds, chia seeds, dessicated coconut, coconut milk and dark chocolate, no added sugar.. I had a lot of fun mixing these up on the kitchen table and pouring the melted chocolate over the top. I've tried a couple on final training runs leading up to the race and put the rest in the freezer. They are a bit squidgy so I've wrapped them in foil and put them in a small plastic ziplock bag.
Moira and Lauren are up and we set off for the Village Hall where the race starts from. There is a great atmosphere in the room where we collect our race numbers and get ready to go. The Race Director is Ronnie Staton and he gives an excellent short speech from the stage with the right mix of information, motivation and humour. We walk down the lane to the actual start point and I chat to a couple of the runners. 'Good luck' I say to someone 'thanks I appreciate it but I don't need it!'. That's confidence I guess.
I get a big hug from my two wonderful crew and we are off. The first few miles are a loop around some fields and tracks to make up the hundred mile distance and it is quite wet and muddy. They have changed the route this year so that this section is at the start rather than the end and I am grateful for this later.
The field hasn't thinned out yet and I chat to a few people as we run this section. One of them I discover later is Luke Tyburski who is well known for some amazing challenges and has a podcast I end up listening to. He is wearing a hat with a toy helicopter rotor on top which Moira and Lauren had noticed at the start. I tell him my crew are supporting him 'well my crew are supporting you as well then' he answers. Of course they won't have a clue who I am but it's a nice gesture. Soon enough we reach the canal and the first checkpoint but it is too early for me to need anything. I like running along canals having done plenty of it in London, I feel relaxed and keep up a decent pace before meeting up with Moira and Lauren for the first time at Checkpoint 3. I've done nineteen plus miles in about 3 hours 25 minutes. My plan is to keep a reasonable pace going to halfway, which is roughly the first twenty miles along the canal plus the first thirty mile loop of Clumber Park and Sherwood Forest, so that I would be able to finish within the 30 hour cut-off even if things went wrong and I had to walk the whole of the second half. My 'A' target is to finish within twenty four hours but I've got no real confidence that I can do this and I don't want to be a slave to the watch anyway, at least no more than I have to. It is great see my support crew but I've learned not to take too long at aid stations and pretty soon I am off up the steep hill into the forest. Lauren has gone up the trail ahead of me to take a picture so of course I have to run up the hill for the camera.
Leaving checkpoint 3
After Checkpoint 4 we are on the first thirty mile loop. This aid station is where the drop bags are but I don't need anything out of mine yet. The loop comes together in the middle where there is an aid station serving both sides of the loop, so with the twice around we are going to pass through this four times.
We pass along Lime Tree walk which is a major visitor feature of the area. I almost go wrong for one of the few times in the race by missing a left turn but a shout from another runner brings me back on track. We pass through some sweetcorn fields where a track has been carved through the high plants. It is atmospheric and slightly spooky 'just like a 1970s horror movie' says one of the runners with an impressive ultra beard as he passes me, I am being careful on this section because the ground is littered with fallen sweetcorn and I don't want to land on one and risk twisting my ankle.
Then we are back on to the forest paths. The route is pretty flat on the whole but there is an undulating section near to the tourist area of Sherwood Forest itself with the visitor centre and the Major Oak. I managed to pass through here without noticing the Major Oak at all, either I am concentrating hard on the trail or off in a dream world. I run for a bit with Marie Sly who is aiming for sub-24, she is running really well and moves ahead of me and I still think my B goal of 26 hours or maybe 27 – I can't really decide – is more likely. My C goal is just to finish inside the cut off. As is typical in these small field races I'm running on my own without a soul in sight for sections, then running with someone for a bit and we are constantly criss crossing with the other runners around the same pace. I'm doing a fair bit of speed walking and I realise I can keep up a good pace doing this. Laura Bentham is running steadily behind me for a stretch and it takes a good while for her to catch me up. She looks to be going along nicely but she tells me she is having a bad day, she finished the event in a good time last year. The speed walking success is a revelation really because I can keep up a decent pace (in ultra terms at my level) by mixing this with running.
Loneliness of the long distance runner
I continue to pass the checkpoints – they are reasonably frequent and really good with great volunteers and a decent selection of food and drink. I am mainly alternating between peanuts for the salt and long term energy, I wonder if I will even digest them before the end of the race, and old school jam and peanut butter sandwiches or wraps. Will they make me sing like Elvis I wonder. My home made superfood energy balls can stay in my pack until later. I tend to be very disciplined with food choices during training but on race day anything goes up to a point, although I stay well clear of the sweets on offer and I am sparing with the Coca Cola – temporary rocket fuel but with a potential energy payback later. I alternate between the bright red and bright orange radioactive looking squash on offer together with water. I've been carrying my two 750ml bottles on my pack which are both about half full – there are enough checkpoints that I hardly need them but I have mixed Hammer Perpetuem into one and carry my secret weapon of coconut water in the other. I think I only use two sachets of Perpetuem in the whole race. The food at the aid stations is all vegetarian which is a nice touch.
There is a steep hill shortly before the end of the first loop which is also quite muddy in places, it seems to go on for a long way. Then I am running into Checkpoint 4 again where Moira, Lauren and the drop bag are. Because of the short extra section at the start we are over halfway at about 52 miles and I am there in about ten and a half hours, which is quicker than I am expecting. They have brought my new compression socks along which I forgot to put on or put in the bag this morning. This is going to be my one longish stop as I want to put these on together with a change of shoes. Although it is trails and tracks I have worn my lightweight road shoes (New Balance Fresh Foam Zante) for the first half with short socks. Along with the compression socks I switch to New Balance 1080s which are heavier but have some additional padding, I think this will be prudent for the second half. We have been offered a chair and the use of the small tent as nobody else is in there, I even get a cup of hot tea brought to me. It is the usual comedy routine as I try to take off my shoes and socks without my calves cramping and then get on the incredibly tight long socks. I must have accumulated a bit of experience because with a bit of help from Moira we get this done with good humour and avoiding panicking. I change my top for a warmer base layer under my Goretex jacket but keep the shorts rather than switching to running tights. We are being so incredibly lucky with the weather, intermittent showers were forecast but it has been dry and mostly cloudy, perfect running weather really. I break out a couple of the energy balls. Moira tells me my sister is tracking me from Germany on the Race Drone app and wants a picture so we do a couple of snaps then I am off again.
Shoe & sock change at halfway
It has probably been about 25 minutes at the aid station but well worth it. They tell me I am looking really good although this might be in contrast to what they remember from Long Eaton. Anyway I feel fine and the next section goes by quickly. I don't know if it is psychological but the energy balls do really seem to be a superfood.
The shoe change with the compression socks is working well and the base layer with my Goretex jacket seems to be the ideal combination to take me through the night. I see Moira and Lauren for the last time at a checkpoint until the morning as they head off back to the hotel. Soon enough darkness descends and it is time to break out my head-torch. I have a Petzl Tikka and an unbranded one I use for work as a backup. The Petzl doesn't give out a massive amount of light but it is plenty on the relatively benign ground underfoot. I don't really like a super bright light which obliterates everything, I prefer to be immersed in the environment with just enough light to clearly pick out the obstacles on the trail, this is part of the magic of running at night for me. I appreciate that on technical terrain you would want as much light as possible.
I have no idea what position I am in the field. I arrive back at the central checkpoint where the two sides of the loop come together at roughly the same time as another runner, he says to the people manning the aid station there 'I'm pretty sure I must be about the last runner through'. So for a moment my befuddled mind thinks I am right at the back, then I realise he has arrived along a different path and he is ten miles behind me as he is about to do the Sherwood Forest section I have just completed. The race director Ronnie Staton turns up at one of the checkpoints with some supplies – 'great race – I think!' I say to him.
In ultra races you just don't know what you are going to get on the day. I've had good ones and really tough ones like most people. I can't believe how well this one is treating me so far – but there is a long way to go. I continue into the night alternating running and speed walking, eventually this will become speed walking with a bit of running. Then the first near disaster arrives. I've checked both my head torches before packing them – both were at maximum brightness and stupidly I didn't change the batteries. I have however brought two 'new' sets as spares, one lot are in my backpack and the others in the drop bag. I've taken these from our supposedly new supply in our kitchen drawer but the ones in my backpack must be old stock as I am soon to find out. On a road section my first set of batteries gives out and I stop to change them for the new ones – but these die in turn not too much further along. No problem – I can switch to my spare head torch – this is also fine for a while but on a hilly section out on some open moorland it gives out as well. It is just at the top of a very steep section I remember from the first loop and I simply cannot see the path. It is too dangerous to descend without light and I am just wondering if my phone torch will get me to the next checkpoint. The fourth set of batteries in the drop bag are way ahead. Potentially this is a race ending technical problem which I could have avoided with more diligent preparation and it is a big lesson learned. Then I see another runner's torch coming up behind, it is Francois Buchler and he is a complete saviour, he has some spare batteries in his pack, they are properly new and he insists on giving them to me. The camaraderie in this sport is great and I am immensely grateful. My race is back on track.
The next checkpoint is High Cliffs for the second time, it is the middle of the night and we are all getting tired of course but I am keeping everything together. Somewhere in the next section is the steep muddy part I remember from the first loop. But it never seems to materialise, either I have run up it without noticing which seems unlikely or I was imagining it on the first loop which seems equally unlikely. Anyway I am not complaining – Forest Loop with the drop bag materialises for the final time. My stomach is fed up with peanuts, jam sandwiches and anything else on offer but amazingly they have hot soup which is perfection at this point. I think I probably get out a couple more energy balls but I have no idea when or where by now. Anyway I just have the descent out of the forest to Checkpoint 3 and then the final twenty miles or thereabouts back along the canal. There is one hairy moment where I reach a fork in the trail. The route is actually brilliantly marked throughout the entire length which is so appreciated by me – and everyone else I imagine. Route marking that has almost completely stopped me getting lost must be good! However at one fork the markings must have been removed by the vandals or the elves. Fortunately a couple of runners turn up, they have the GPS route on their phones and work out which way to go.
Checkpoint 3 passes and there is a short road section to link to the canal. Here there is another turn I almost miss as I make a final concerted attempt to get lost, fortunately 100 yards or so up the road past it there is an early rising local walking in the opposite direction and he points me in the right direction.
Now there is the final section along the canal. I'm quite enjoying myself in that way that you can as the race is slowly conquered. The eerie dark and isolation actually adds to the experience. I'm looking at my watch and realising that I should be able to get under 24 hours if I keep a steady pace up but my tiring brain keeps changing its mind about this along the way. Having had a number of races over the past few years where I have just missed a time target my confidence is worn a bit thin. Anyway it is better to get on with the job in hand and not worry about clock watching. The path is on the left hand side of the canal, then switches to the right and back to the left again so I concentrate on bridge watching instead. Time goes by, the dawn comes up and Checkpoint 2 appears. By now no more food is required or wanted by my stomach and I succumb to just Coca Cola, time to play the gambler's nutrition choice card. Then it is the final canal section to the turn off bridge. The landmarks are familiar from the way out, there's the bit along the wooden duckboards, the narrow part past the houses, the black bollards, the downhill slope by the lock, the low bridge.
Then ahead of me on the towpath two people are coming towards me – in my befuddled state I don't recognise them at first but as we get closer it is Lauren and Moira. It is so great to see them. They tell me they woke up, checked the Race Drone tracking and I had gone too quickly for them to get to meet me at the previous checkpoint near the hotel. The final checkpoint is now only a couple of hundred yards further on from where we are now. I ask the marshals there how far to the finish – it is about three miles across tracks and fields and one of the guys shows me the way up off the road. I am only just coming up to 23 hours so all is well with the world. Moira and Lauren go back to the car to drive to the finish. Then a runner goes tearing past me 'good running' I say in a surprised tone 'I want to get inside 24 hours' comes the response as he disappears up the road. Instant paranoia floods in – have I miscalculated? Why is he pushing so hard? The road turns extremely slippery with big clumps of mud and deep puddles, it is going slightly uphill and I find myself shouting ridiculously at the terrain, fortunately there is no-one around to hear. Then a sharp turn off the road and it changes to a slight downhill across a compacted field with the remains of a harvested crop, this is runnable and I speed across it as fast as I can, apologising to the course for grumpiness as I go and overtaking one more runner. Another grassy hill (it's just a small rise but it feels like a hill) and then a smooth track.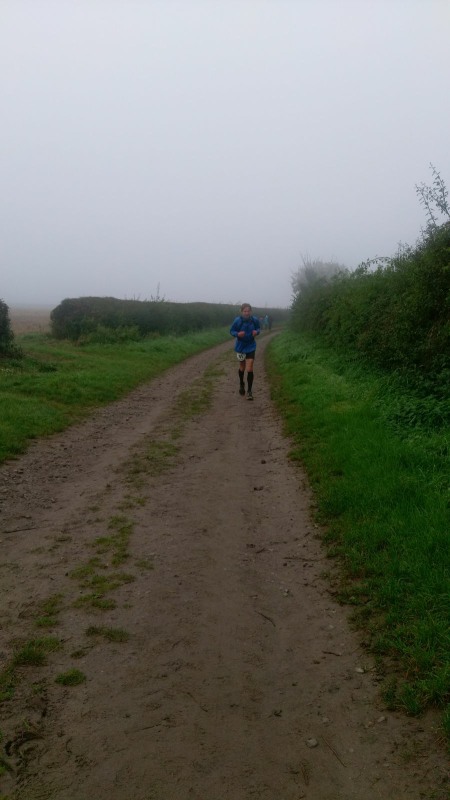 Final mile
Moira and Lauren appear again! 'How far to the finish?' cries the demented man 'not far at all we've just walked up from it' 'Yes but exactly how far?' as if I am expecting them to say 376 metres or something. There is still 20 something minutes in hand and they are right – we reach the road and a couple of turns later there is the final straight down to the village hall. Lauren runs ahead to take a couple of pictures and they have researched where the actual finish is – which is just as well because I haven't a clue.
Run in to the finish
There is no actual finish line tape, instead you run into the hall, through into the room where we registered and finish at the desk. It's not really very iconic but I'll take it all day long. 23 hours and 40 minutes - I've done it. I sit on the edge of a small stage. Someone gives me the finisher memento which is a small glass trophy, a singlet T Shirt and a bottle of homemade beer. It would be suitably celebratory but I can't face it and after a quick chat to some of the other runners I lever myself into Moira's car and we head back to the hotel for breakfast. At the reception they tell me another runner who is staying there with his wife has been taken to hospital, hopefully nothing serious.
I've come in 19th out of 56 finishers, the other 39 have DNF'd and I know there are some really good runners amongst them, including Luke and Laura. As usual a long ultra is a great leveller, anyone can have a bad day due to stomach problems, misjudged pacing or a recurrence of a nagging injury. I'm not first in my age group - that has gone to Malcolm Beresford who is a couple of places ahead of me.
After breakfast Moira and Lauren head off back to London and I collapse into bed. I've decided beforehand I couldn't face a long car journey and I'm so glad I did. I have a day of sleeping, doing nothing and watching TV then get the train back the next morning.