RIGA MARATHON 17/05/15
I've set myself this target of breaking my marathon PB every year until I'm sixty. I've managed it all the way from 2009 apart from 2013 when I concentrated on ultramarathon training and didn't run a marathon. I'm now 59 and I've missed maintaining the streak by 18 seconds at Seville. This is the last chance saloon before my July birthday. It's only two months after the Eco Trail de Paris ultra so I have no time for a proper training build up. I rest after Paris and then put in a few weeks solid enough work with one 20 mile run, some modest tempo efforts and the usual bits and pieces. Work was full on with lots of travelling and not enough sleep.

It doesn't look like I am going as Moira is due to work on the Saturday but another vet steps in at the last minute and swaps dates with her. I enter a few days before the race, sometimes you've just got to go for it. I travel to Latvia on my own, everyone else is too busy or too sensible. I fly Wizzair and I am staying in the four star Islande Hotel for about £50 a night. It's just across the big bridge from the start which is on the Daugava riverfront outside the 700 year old castle, which doubles as the presidential residence. Behind it is the old town, the picturesque part of Riga.

On Saturday night I am woken at midnight by one of the venues I installed a sound system in with a big technical problem, so I am poring over mixer schematics on my phone in the middle of the night, fortunately I am possibly a genius and fix it over the phone. I finally get back to sleep but slumber on through the alarm and wake up at 7.19am, just over an hour from the race start time. On goes my running kit, I throw my things into my bag, eat a banana, check out and hurry over the bridge to the start. I make it to the front of the toilet queue with less than 5 mins to go, somehow manage a 30 sec poo and make it to the rear of the starting pen. The course is two non identical laps. After three kilometres we are crossing back over the bridge and a right turn takes us past my hotel. There is an out and back along quiet streets before coming back over the bridge again, then we are running through the old town where most of the crowd support is concentrated. Over the river via a different bridge, another loop and back via bridge number three. The bridges are the only significant humps as Riga is a largely flat city. The first half is going well, I am closing in on the 3.30 pacer after starting well behind him. However the inevitable happens, I have to stop for another toilet visit shortly before halfway where there is a short row of portaloos. It breaks my rhythm but I try refocus and get back on to a consistent pace. We are now back on the long riverside road to the castle and as we are running with the half marathon entrants most of the field is steered to the right hand side to cross the finish line. The rest of us carry on past for the second lap. Instead of the short loop back to the bridge, this time there is a long out and back section. It gets tougher, it always does. I am grateful for the enthusiastic motivation from one of the female marshals, maybe I look like I need it as she seems to direct it towards me as I go by. It makes such a difference to get a small psychological boost. Back over the main bridge after 32K. I'm slowing but I don't stop apart from to get the one gel I eat out of my pocket with freezing hands at about 35K. My three and a half hour target is long gone. We cross the bridge for a final time and are back into the old town. There have been some decent bands along the route and here is a really unusual one, sort of souped up traditional music with a choir over a backbeat. There is an extraordinary section passing between two long rows of tables with people in folk costumes standing on them high fiving. It is bizarre and effective and I am nearly there, I'm exhausted but there is just a short downward slope to the river and then a final 200 metre dash to the line. I am home in 3.41.09 but after the pre race drama it's the best I can do. I feel kind of numb, not hungry or thirsty and legs not too beat up. I am flying back the same day so I head back to the hotel where my case is stashed. Although I have checked out they allow me to use the spa, sauna, steam room and Jacuzzi – lovely. Back at the airport I drink one celebratory beer. Paldies Riga!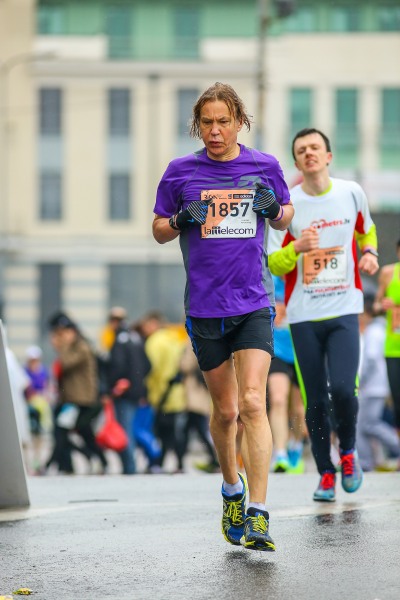 Tough day in Riga