READING HALF MARATHON 2009
This was one of my favourite ever races although it started badly - I had a really awful breathlessness spell on the Saturday, whether this was my one and only Asthma attack or a legacy of the chest infection from the previous year I still don't know. When I went to the doctor in 2008 about my chest infection he diagnosed me as asthmatic - a bit of a general catch all and I now have to declare this on all my European sports insurance until the end of time. Anyway he had prescribed me one of those inhaler things so I tried that. The symptons persisted for the rest of Saturday. I woke on the Sunday morning assuming I wouldn't be able to run but I had arranged to go to the race with Richard so I thought I'd make the trip and see how I felt. Miraculously the symptons seemed to have gone so I lined up at the start and set off with no expectations. Richard agreed to set the pace and I didn't look at my watch once during the whole run. As often happens when you free yourself of timing pressure the race went really well. It's a nice route through the town and I remember a great thunderous band or bunch of drummers under one of the underpasses. We got to the last couple of miles approaching the Madjeski Stadium, anyone who has done Reading knows this bit is a long straight road with a short diversion up and back down a side road.
On the unexpected final diversion digging deep
We were both finding it hard but I was feeling just about ok and it was Richard who was struggling a bit, he did really well to tough it out and stay with me as I took over pacesetting. We came up the ramp into the stadium and at this point I put the hammer down and got ahead. As you enter the stadium there is half a lap to run around the perimeter to the finish, Richard's competitive instincts kicked in and he got back to my shoulder and even pulled a half step ahead as we approached the line. I wasn't having that and with a final effort I got level again, we finished in a dead heat on both gun and chip time. We had achieved our goal of going sub 1.40 for the first time, 1.38.57 and we were in the top 20% of finishers, so some definite progress being made.
Got clear of Richard
Where did he come from?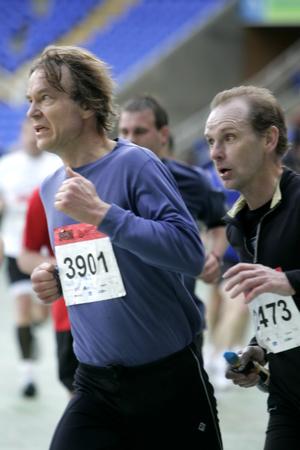 No we haven't just seen a ghost
Richard steals ahead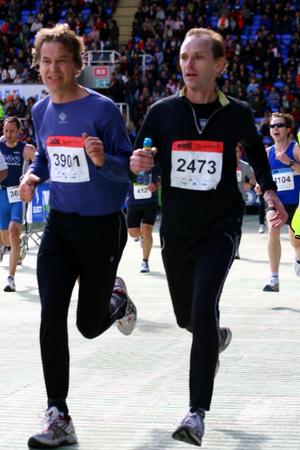 Dead heat at the line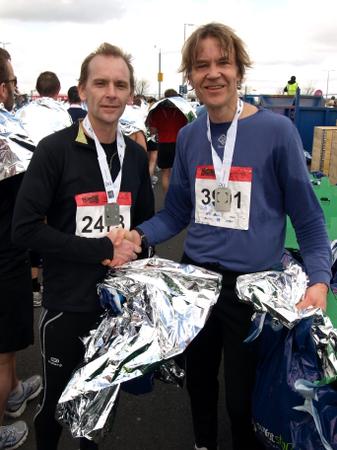 All's fair in love and war