PALMA DE MALLORCA MARATHON 2008
The chest infection I had contracted before Stockholm plagued me throughout 2008. I suppose I never quite gave my body a chance to rest sufficiently to get over it. Throughout the summer I would feel better and have some really good training for a few weeks, then it would come back again. Despite this I trained for Palma qwhen I could although looking back at the log I was too ill to run three of the last four weeks beforehand. Anyway the four of us (Bing, Richard, Pete and myself flew out to Palma). We were a staying in a decent enough hotel on the seafront - apart once again from Pete who was again being spendthrift in a curious hostel/hotel in the centre of town. It did have a nice view of the catherdral from the roof. Raceday came, the weather was predictably hot and I had to make a last minute dash back to the hotel for a final loo visit, which meant I almost missed the start, Bing who was once again not running graciously agreed to take my bag as I didn't have time to hand it in. I was separated from Richard and Pete as a result and off we went. The first half went well but the debilitating virus got the better off me, assisted by the increasing temperature and a very featureless stretch of road heading out of town, the first half had been through the centre of the beautiful city.
Why do I still wear leggings on a boiling hot day?
Finally we turned at the far end and headed back along the seafront around the curve of the bay. I could see the cathedral near the finish line from miles away as I toiled along feeling worse by the minute.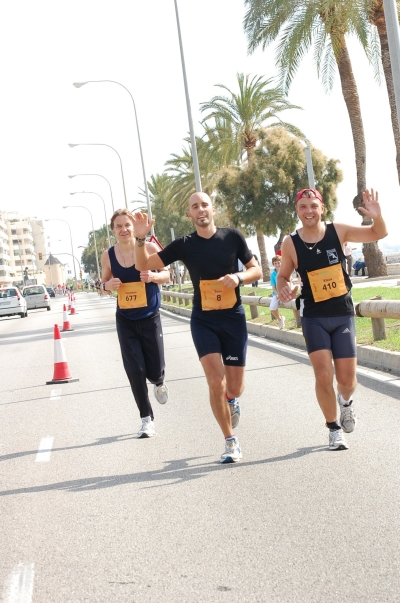 I am smiling at least but can't manage a wave! I'm actually feeling terrible.
Towards the end we were running along the wooden boards on the beach and through the haze I was thinking 'I'm going faster than the people strolling and the parents pushing their buggies - but not by much!' All thoughts of a decent time were long out of the window. Finally the finishing chute arrived as it always does and I raised as decent a final burst as I could muster, captured by Bing and the race finish camera on video.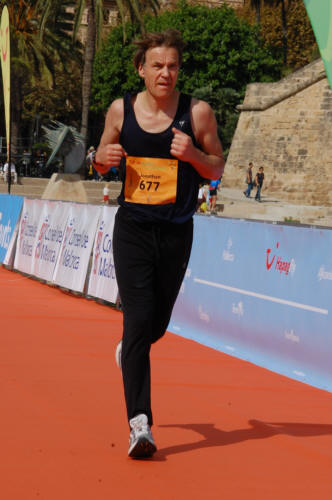 Trying to raise a bit of a finish
I crossed the line and sat completely exhausted on a small wall. Afew hours later I had recovered enough to go for a nice meal and on to an exotic looking bar/club festooned with fruit so I can't have been that bad. Finishing time 4.29.32, I was going backwards fast.