MIDNIGHT SUN MARATHON, TROMSO, NORWAY, 21/06/14
This race is run at night on the longest day of the year. Tromso is up near the Northern boundary of Norway and it remains light 24 hours of the day at this time of year.
We fly out with Norwegian on the Thursday via Oslo with a seven hour stopover which gives us time for a boat trip around the Oslo bay and islands. The flight back will be direct. We booked way in advance, last December I think, which got us a decent price. We are staying in City Living Aparthotel in Tromso and I would recommend this as eating out in Norway is eye wateringly expensive, we have kitchen facilities so can cook and hang loose in the apartment. it is also a couple of hundred metres from the start so no need for a bag drop.
The marathon is a small field about 600+, just the way I like it. There is also a half marathon, 10K and kids races so lots going on. The start and finish are in the centre of Tromso, you cross the Bruvegen bridge, 44 metres high, after 2K and 17K and the rest is two out and backs along the coast roads with beautiful views. The weather was unseasonable - cloudy and cold, very unusual apparently and about 6 degrees. It is quite an experience running in the full light late at night, The marathon sets off at 8.30pm. We have a good late breakfast but the rest of the day with the unusual start time I find it tricky to get my nutrition right - I can suffer from bowel problems during long runs so I don't want another full meal, I just snack on Norwegian crispbread, honey and bananas plus a large slice of cake and coffee. I set off with Richard and - you would think I have learnt by now not to go out too fast but it is such free and easy running. I enjoy crossing the bridge, it is just a very long steady slope up and down. For the first 10K we are going along nicely but Richard is warning me not to push it, the next 10K I think I am heeding his advice but looking at the splits we are speeding up more and it is him who is pushing on. There are no pacers or anything like that and I am only taking the occasional glance at my watch. I reach halfway in 1.41.55 so only a few minutes too fast for me but that's significant, as we know it comes down to fine margins.
The second half starts OK and with 15K to go I am still well inside 3.30 pace but of course the real marathon hasn't started yet. For miles I have been running alongside a woman called Elisa but I make my first big mistake, I've just had a few gulps of sports drink at the aid stations so far and I know from Amsterdam this doesn't work so well for me beyond 20 miles. I have practised taking a gels out of my back pocket and consuming on the run with no problems but my brain turns to semolina during a marathon. I am wearing gloves and I have my hotel keycard in the pocket which I don't want to lose so it takes an age, I have to stop, I drop a glove and go back for it and the whole palaver must have taken about a minute and a half. Elisa is long down the road. Anyway I carry on to the last 10K when it is starting to get tough as it always does. I am still inside 3.30 pace and give myself a talking to but it isn't enough, I repeat the gel performance a bit quicker this time but at the 6K to go mark (they count down the km markers which is a nice touch) my time is 3.01 - I have dropped outside the pace and here is the folly of only having one target for the race, I usually have a clear B and C goal. Once I am missing it the race defeats me a bit mentally. The whole course is gently undulating most of the time, no big hills but it starts to take its toll after a while. I know some people like a bit of variation to break things up so I am sure you could PB here but it is not a superfast flat course, the winning time was about 2.28 which gives you an idea. I plod along but there are some short walking breaks in there, usually only 10 secs or so but I am getting slower and slower. For the finish you crest a hill and then come downhill on the main street with all the crowds and razzmatazz. I have finished in 3.35.37, my third fastest so not a bad effort. I am very tired but not absolutely wiped out and unable to walk like in Bonn 11 weeks ago. We are all unable to summon the energy to go out to the bars, we just have something to eat in the apartment and collapse into bed.
Richard has finished in 3.31.21 and I am delighted for Pete - it was his suggestion originally to run this but he pulled out as his sister was seriously ill. She died from cancer ten days before the race so we persuaded him to run in her memory, he ducks under four hours with 3.59.34.
Tromso is a fascinating town. Perhaps we are seeing the best of it in midsummer. There is a wonderful bar/arthouse cinema with a record deck and a stack of vinyl LPs behind the bar plus great craft beer. We go the the Amundsen museum and find out about his race to the North Pole with Scott and also the lives of pioneers who escaped one kind of hardship of Victorian urban life in favour of battling the extremes of Svalbard in the Arctic Ocean. The day after the marathon we take a trip up the mountain in the cable car and on the last day (we travel back Monday night) hire a car and go round the Island of Kvaloya to the North. Stunning scenery with fjords, snow capped mountains, white sandy beaches and small villages of wooden houses. The Arctic Hotel in the middle of nowhere gives us a fantastic meal in the middle of the afternoon, our one big meal out.
This is a great destination marathon, the people are lovely and friendly, the air is the best running air ever, finishing in the light just after midnight is pretty magical and the Norway scenery is fabulous.
Crossing back over the Bruvegen bridge shortly before halfway. Where is everybody?
Looking ludicrously happy, clearly unhinged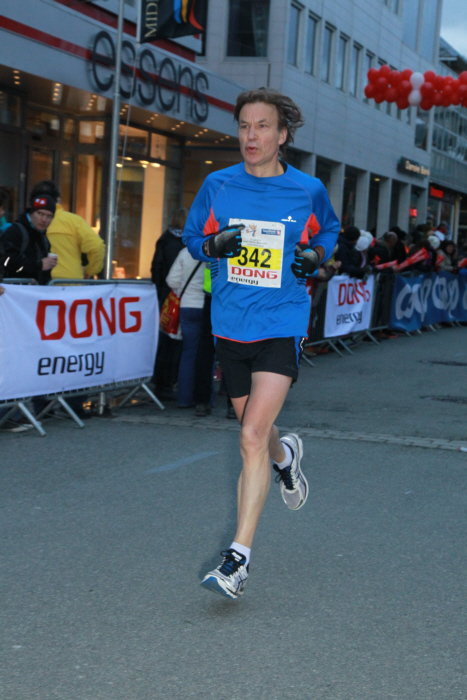 Finishing straight