KOSICE MARATHON 04/10/09
We are booked to fly out to Kosice in Slovakia on Air Europe. A few weeks before the marathon they go bust and we have to find another flight. Se go via Prague where we change to a small propeller plane for the rest of the journey.
It is Richard, Bing and me. We have a great hotel near the old city centre. The central street in Kosice with the cathedral is magical and this is where the race starts and finishes, also where we register the day before. There is a good band playing on the stage outside the registration building.

The Kosice Peace marathon is the oldest in Europe and the second oldest in the world after Boston. It started in 1924 and has been run annually since then apart from a couple of years in the Second World War. It's also always been run over the 42.195 Km distance right from the start. So we have the wings of history behind us.

On the Sunday we make our way to the start - and make our way back again. I've got the time wrong and we are an hour early. We are able to laugh about it and it probably takes the tension away a bit. An hour later we are in the starting pen.
It's not a huge field, just shy of one thousand marathon runners plus a half marathon which starts at the same time. There's a good atmosphere and we are off. Looking at the photos I am wearing the usual curious outfit of a cap sleeved top and running tights. It is sunny and everyone else is in shorts – why not me? - especially as later in the race the tights are stained with salt. It's a flat course all on tarmac roads and the occasional hard path, after just over 4Km we pass through the Park Anicka which is a nice change of scenery. I'm going along smoothly and I'm liking the course, which is just as well as we are going to do it again – it's a two lapper. We come back up the main street to the halfway mark, the half marathon runners carry straight on under the finish arch but we turn sharply left for our second lap. I go through halfway in 1.44.55, Richard is 18 seconds behind me. The park comes up for the second time, I'm still going well up to 29Km then I get struck by cramp. From then on it's pretty much a sufferfest. I get over the cramp but I'm running out of resources. With a mile or two to go I'm fading and I'm reduced to walking for a bit. An experienced runner who I discover later is Milan Marton, a Slovakian M60, comes up alongside me 'Don't walk. Run!' he says insistently. I start running and get slightly ahead of him. A bit further on, I am pathetically, miserably walking again. Milan is there 'Don't walk. No Walking! Run!'

In the face of this fabulously simple motivation, what choice to I have? I am running again. There is a little kink in the road and with a kilometre to go we can see the Cathedral up ahead. There's an inflatable arch to pass under with the sponsor's name, U.S. Steel Kosice, emblazoned on it and now that I can taste the finish I'm pushing hard. There's a pale blue section to run on for the last hundred metres or so and it is the best colour in the world. I'm done in 3.53.41, quite a slowdown in the second half but not a complete collapse. It's a new PB by a few minutes so I have halted the trend of getting slower and more ill with each successive marathon. Milan finishes about twenty seconds behind me and I thank him profusely. Richard has had a tough day but with sublime timing he crosses the line in 3.59.51.

With apologies to Charles Dickens, Kosice presents us with the best and worst of meals. On the Friday before the marathon we found ourselves in a curious basement cafe/restaurant which we decided, without any evidence, was some kind of front for a gangster operation. We were the only customers although there were a few characters hanging about. The menu was limited and very ordinary and they didn't really behave like a restaurant at all. Now after the usual collapse and recovery in the hotel room we find a very different kind of restaurant. It's quite posh and stylish but not too expensive. I'm not a great meat eater but I order the shoulder of lamb. I'm presented with the largest lump of meat I've ever been served, it is more like a shoulder of woolly mammoth. It is beautifully cooked and absolutely delicious. Even with my post marathon hunger I can't nearly finish it.

It's Sunday in what must be a religiously orthodox country. Everything closes early in the evening. Bing's already been to the casino in the lead up to marathon day, with his desire to party and our post marathon adrenaline mixed in with exhaustion, we find ourselves in the back of a taxi with Bing asking the driver to take us to a late club. We drive off into the suburbs. Eventually he stops somewhere – I can't remember what's there but it isn't a nightclub, we taxi back to the centre. My mind is blank as to where we end up, perhaps it is back in the hotel.

The day after the marathon we fly to Prague. Richard has to hurry back for his son but Bing and I have half a day to explore the city before our late flight. Sitting in an outdoor cafe in the Old Town Square in a post marathon haze, waiting for the Astronomical Clock to chime, is a great way to pass the time.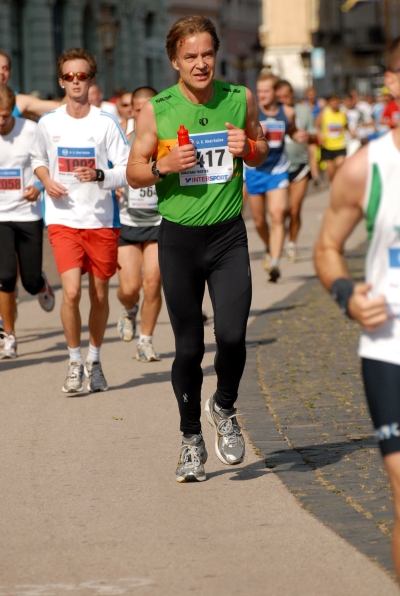 Just completing the first loop. All the people with red numbers are in the half marathon and are about to finish.
In the final kilometre sufferfest. Milan who has kept me running is just behind in blue.