ENIGMA FIREWORKS 05-6/11/16
David 'Foxy' Bayley organises marathons around the lakes in Milton Keynes, I've done two of his races before in my build up to Comrades but this is something different, back to back marathons Saturday and Sunday at Caldecotte Lake. The course is a 1.67 mile mini loop followed by seven laps of the lake. Day 1 is clockwise and Day 2 anticlockwise. The events are small, there is a size limit of about 60 or so I think. The organisation is informal but efficient with good camaraderie. There's a Premier Inn right by the start line so that's where I stay, the bar acts as the race headquarters.
Berlin was only a couple of months ago so I'm going to go easy. It's a lovely route along the lakeside paths and through the woods, it's largely flat with a few minor undulations.
Really it's a case of getting into a steady pace and trying to stay in the groove. A multi lap race like this does turn into a bit of a numbers game, the field strings out and in the later stages I am occasionally lapped by a front runner or pass a few slower ones. There are quite a few members of the marathon 100 club here.
I'm trying to look after my legs and be ready for the following day. I finish in 4.13.01 and have a relaxed evening mostly in the hotel room, I've brought a selection of food with me.
Back on the start line Sunday morning. Again I run very steady and easy, and run walk the last lap. It's my slowest marathon ever by a country mile but my legs feel good and not wasted at the end as a result. This one stretches out to 4.42.06. I take no nutrition on the run apart from one bottle of Hammer Perpetuem and one Gu caffeine gel before lap 6. It's a good ultra experiment.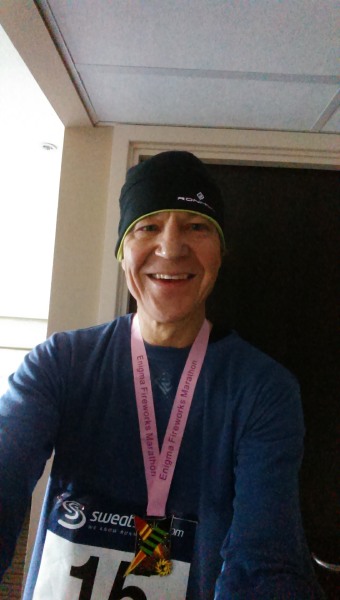 Saturday
Sunday