ECO TRAIL DE PARIS 21/03/15
After we pulled out of the Thames Trot 50 in 2013 due to my injury Richard agrees to sign up for another 50 miler, or rather 80Km. This time it is the exotic sounding Eco Trail de Paris in March 2015. It commences in the country of south west Paris beyond Versailles and makes its way along trails and through woods before a final few miles along the Seine. The finish is as iconic as it gets, on the first level of The Eiffel Tower. The race is true to its name and is designed to be as environmentally friendly as possible in all aspects. So no plastic bottles of water, no unnecessary disposable packaging at the food stations, no waste left on the trail, we all are to carry small net bags attached to our rucksacks to put any rubbish in.

I have moved on to a slightly more modern training plan which involves back to back long runs most weekends, for example 15 miles on Saturday followed by 20 on Sunday. As before there is a steady upward trend to the weekend mileage prior to the taper.
We travel over to Paris on the Friday and stay in the Hotel Relais du Marais where I have been with my family. We have a nice meal in a local bistro - the race is due to start at midday on the Saturday so we have plenty of time to get ready in the morning before catching a train to near the start, in keeping with the ethos of the event the coach transport is just a short distance from the train station to the start. There is a strict mandatory kit list and they say there will be random spot checks along the way and disqualifications for non compliance.

We are planning a small snack before the off but there is hardly anything there. We do find a crepe stall and have the unconventional pre race snack of a Nutella crepe but is actually a pretty good choice. It is a much bigger event than the other ultras I have done with over 1500 in the 80Km plus lots more in the two shorter races which start elsewhere.

It is a beautiful start along grass paths and around lakes and the early miles are quite flat. This all changes soon enough with first eye watering climb through a wood. To me this is completely unrunnable, it is so steep but I find out the times for the leading runners later and they are at such a pace I wonder if they have powered up them - there are going to be plenty more.

It really is a trail race. The only roads we see are ones we cross in villages and it sometimes involves a steep descent followed by a climb back up. Quite a bit is on paths through woods but there is a big variety of landscapes. We arrive at the first checkpoint/food station and it is like a big encampment with loads of volunteers and a big variety of food on offer. I am interviewed on camera for the race video and have a go at a few French phrases as well as English. Richard and I are both feeling great and we head on out for the next leg In one of the steep forest sections we pass a group of people carrying a chair mounted on poles, it has a child who can't walk in it but he is getting to experience the whole race. There are enough people to swap over chair carrying duties from time to time but it is still a huge undertaking and it puts our efforts in perspective. There is also a woman speed walking with poles and a super impressive pace, I still want to beat her though! It hardly matters in the middle of the pack for an ultra but I suppose I want to know I am faster than walking pace - even if it is warp speed walking.

Most of the early stages Richard and I stay together but we stick to our policy of not holding each other up and Richard gets a little ahead. I reach a point in the path where there is a big puddle and I don't want to get my feet wet early on. I make the foolish choice of running along a pile of logs alongside and the one I am on spins round and deposits me on the ground. I am unhurt and I have kept my feet dry.

There are some fantastic views and we are running alongside some fabulous historic houses and monuments. The second food stop is alongside one such building, up high with a great view. The hours go by and tiredness inevitably starts to creep in. Richard and I are running together again and as evening sets in we suddenly get our first view of the city of Paris spread out before us from up high. It is twilight and we can see the Eiffel Tower lit up in the distance. It looks a long way away! It is still a huge psychological boost. At the bottom of one slope it is time to break out our head torches. Looking back up the trail behind is an amazing sight as a line of runners torches can be seen descending behind us like a trail of fireflies. It is magical and if I ever wished I had taken a photo it is here. But we have work to do and we press on. Once again Richard pushes ahead and there is a long stretch when I am running on my own in the dark, although it is still only mid evening it is wintertime. One stretch has sharp rocks protruding from the path, I catch one and fall for the second time. Once again I am unhurt and I am not the only one. Every so often the silence is punctuated by an Aaaargh as someone else goes down. Then the surface underfoot relents and I get another second wind, it is good spell and maybe I close on Richard a little, he is also patient and supportive and he is waiting for me at the final food stop. We are on a largely downhill trajectory now as we are heading down to The Seine and it is a big moment when we hit the river path for the final few miles. We are both exhausted but I am more wasted than Richard and he is very good to stick to my pace as we see the Eiffel Tower gradually coming closer.

We turn across one of the bridges but only halfway, there is a causeway running down the centre of the river here and we run along the path down the centre of it to the next bridge. And there is the Eiffel Tower almost in front of us. A short section across the roads and we are running along a roped off section through cheering supporters and bemused tourists There is a little stage where they will presumably carry out the medal ceremonies and we nip up and over this Then we are at the foot of the staircase we are climbing. Here we pass through a small checkpoint where my rucksack is briefly checked for the first time, this just consists of slapping it to check it is reasonably populated with a decent weight. The Premier Etage of the Eiffel Tower is 190 feet above the ground up 328 metal steps and Richard bounds ahead. We have a rule that we don't get overtaken in the last 200 metres of a race. I wonder if it applies vertically as I am so shattered I am battling up them and a couple of runners pass me. Richard looks disgusted as he waits for me at the top but a few seconds later he has forgiven me as we run together along the final short open air passage with huge grins on our faces..
The finish is a narrow opening and we squeeze through it to find ourselves on an open area in the middle of the girders with medals, free beer and we happily take a few pictures with the structure of the tower and the views of Paris behind us.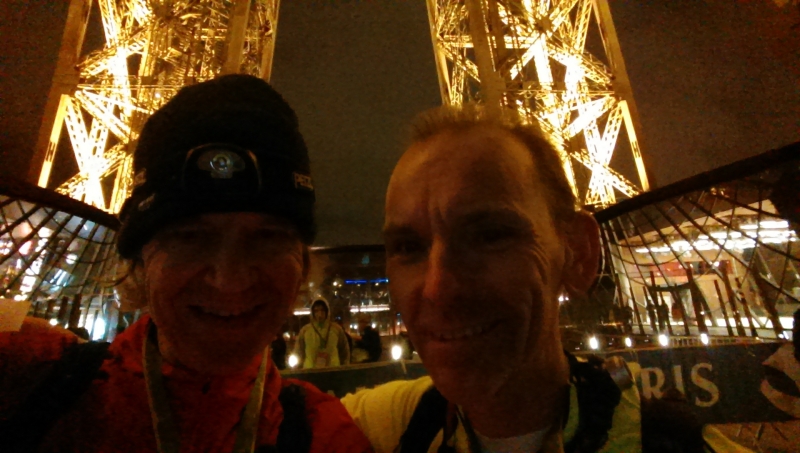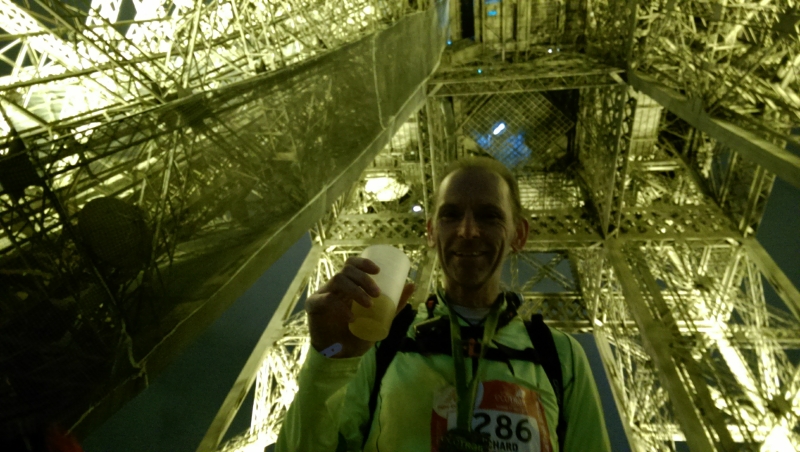 After a brief post race daze we take the lift down to the ground and search for the marquee which has the bag collection. a shower block and post race food. We are sitting at a long trestle table eating shortly before midnight and I say to Richard ' you have finished your first 50 mile ultra'. 'Yes and I'm not doing another one' he replies before remembering he has agreed to do Comrades next year - 'Oh apart from Comrades!'. A few days later he changes his mind and says he wants to enter another one.
We've finished in 10.19.26 and are nearly two thirds of the way down the field. There are plenty of fast ultra runners in Europe.

The Eco Trail de Paris is a fantastic event and certainly one of the most memorable races I have done.