CRACOVIA MARATHON 2007
I was still playing 5 a side football and a couple of the guys, Richard and Pete, had run their first marathon in Berlin in 2006. I made the decision that I was going to step up, train and run one at last. I looked for something abroad and I settled on the Cracovia Marathon in Krakow, Poland. It looked interesting, not too big (just over 1000 runners), an interesting course and city and it felt quite hardcore to be going over to Poland on my own for the race. However I went into the 5 a side session that week and told my mate Bing (Gerard Lee) - he immediately went over to Pete one of the Berlin runners - well he was in too so there was three of us with two running. Bing has come on a lot of our marathon weekends but he is much too sensible to run, he just relaxes, enjoys the city and maybe takes a few pics or videos of us finishing.
I trained well for the event, although I lost three weeks to the flu and post illness recovery and for a while fretted over whether I was going to be able to run.. Like most people doing their first marathon it was a really big deal for me. I was running for the Multiple Sclerosis Society, my step grandmother had suffered from this cruel condition and I remember as a child seeing her deteriorate from a wheelchair to being bedridden in a care home. We booked a hotel - well Bing and I went to a nice one just over one of the bridges and Pete in characteristic fashion decided to save money by staying somewhere different and much cheaper near the centre of town. We boarded the plane and inevitably there was a stag party on board of guys all dressed in the same tops with their names on the back - why? - well whatever madness suits you I suppose, we couldn't really talk.
Race day came and it was pouring with rain. Pete and I arrived at the start, Bing saw us off then headed off to the castle tour or something. There was a tent to shelter and change in and I nervously pinned the number to my race shirt which took me an age, I always do this the night before now but you have to learn these things. I knew nothing then and my food supplies for the whole race were six jelly babies in my back pocket which I studiously ate spaced out over the last six miles. Everyone looked razor sharp and super thin with close cropped hair. We looked at each other 'we are going to come last' we thought. No charity runners, no people dressed as Elvis or carrying ladders just a super serious crowd. But this was exactly what I was looking for and the rain added to it. Just before the gun we all crossed over to the start and we were off. The start/finish was in a big park about 5km round and you looped around this to begin with. Then it was down through the town to the river and a long stretch along the river to a turn around point. It was pretty flat, there was one very minor slope down to the river, little did I know how big this would grow coming back the other way near the end. The rain didn't really let up but I was in the groove and Pete and I kept a steady pace together with another English guy we met, there weren't many.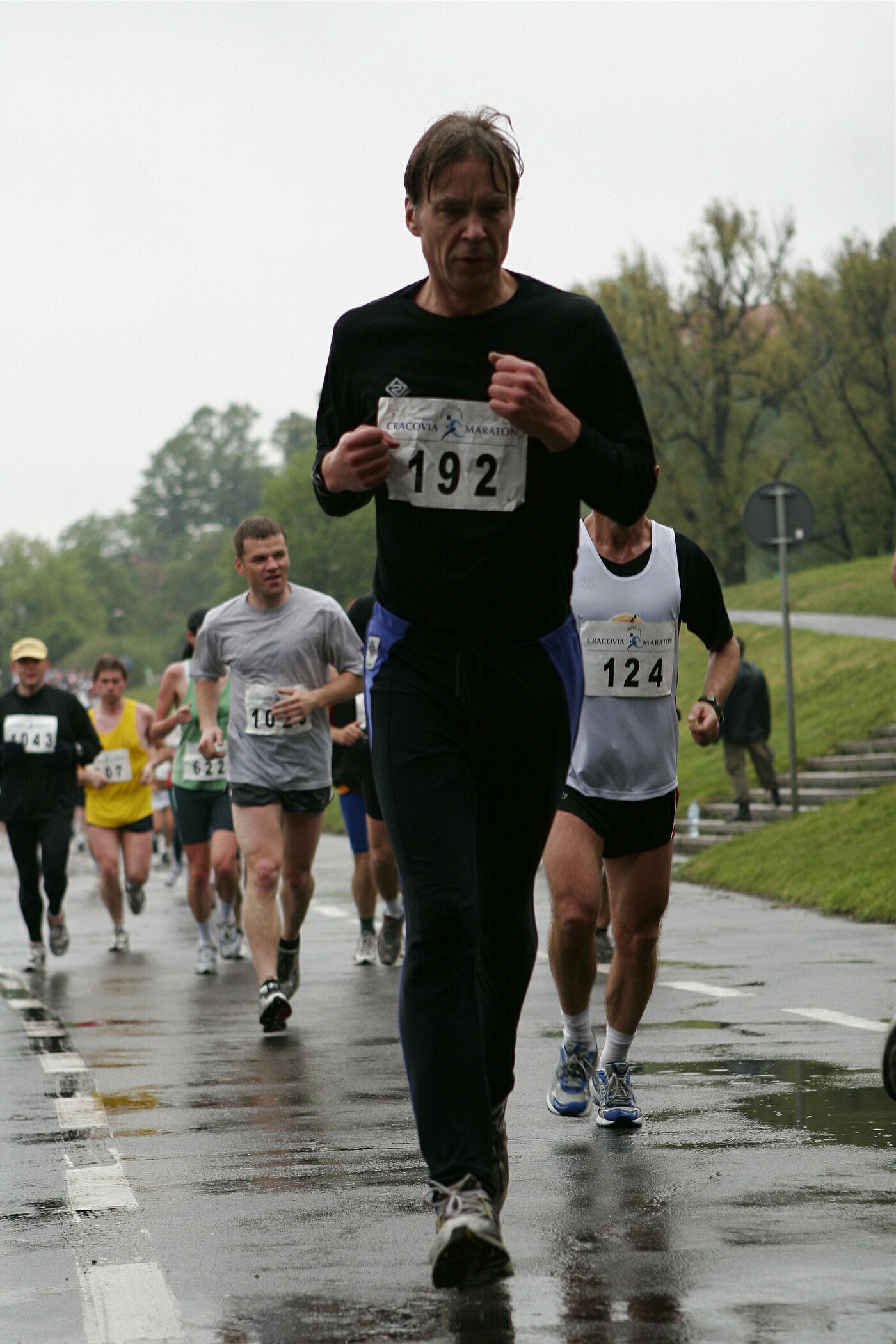 Getting the work done.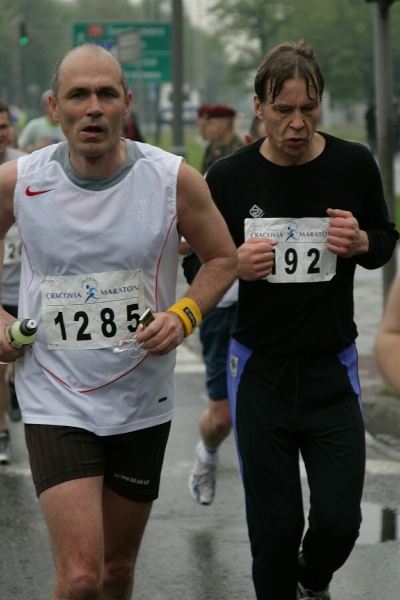 With Pete in the annual wasp chewing competition
My ambition was to break four hours, we got to halfway in about 1.53. Somewhere round about 17 miles or so Pete was feeling good and announced 'we're only here once - I'm going for it' and shot off down the road. This tactic proved predictably fatal and we caught him again a mile or two further along and I went ahead at the next water station. Looking back this marathon followed a classic pattern and shortly before getting back to the old town which was probably 20 miles or so in it started to bite and I understood full on the whole marathon experience.
About 20 miles in, feeling it. What are my hands doing up there?
The tiny slope arrived and it was challenging to keep running up it but then we were back in the city centre with the first substantial crowds, a band playing and I set out for the last big push. We arrived back at the park and had to run straight past the finish on an outer path following the final loop around. At the far side of the park I finally slowed to a brief walk but then I heard a voice shouting from behind 'Oi what you doing walking', it was Pete and as he caught up with me he announced to the crowd 'I've been trying to catch this guy since mile 20' or something. This got me running again and soon we were coming round the final bend into the finish straight. I knew I had done it, I was going to break four hours and with considerable elation sprinted (?) as fast as I could to the line.
Finishing straight, trying to lift up my big feet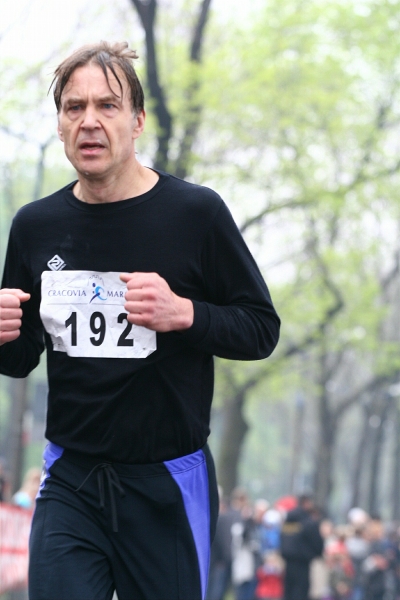 Nearly there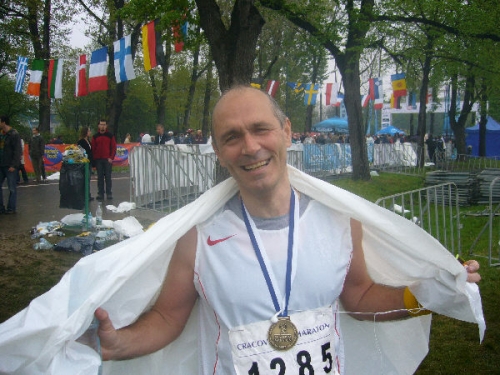 Finishing chip time was 3.55.54 and Pete came in at 3.56.17 for his second sub-four finish. We hadn't come last, we were just over halfway down the field. We collected our medals and a waterproof top or space blanket and took a few pics of each other. There was also a photo service getting your picture put on the front of a mock marathon newspaper so I had one of those done which was fun.
I spoke to Moira on the phone, one unpleasant aspect was that our very old cat had reached the end of his time, he was in a lot of pain and Moira as a vet took the decision to end his suffering that morning. So my joyful mood was tinged with sadness.
We met up with Bing, had a celebratory beer in one of the tented outdoor bars in the main square and that evening we went to a traditional Polish restaurant in the Jewish quarter. It was a delicious meal, for the starter they brough a pot of soft cheese and a pot of goose fat with some bread to dip in them, it was amazing post marathon recovery food but I'm not sure how your body would handle it on a normal day. Then on a tide of adrenaline we went on to a nightclub, drank more beer and we (well I) invented the Krakow Shuffle, a mixture of bad dad dancing and inebriated post marathon stumbling about.
The next day we went to Auschwitz which is not far away and this put the whole thing into perspective, what a sobering and harrowing experience. On the plane back that evening were the same stag party still in their matching tops but with one sporting a broken arm and others groaning under the weight of their hangovers.