COTSWOLD CHALLENGE JUNE 2017
The Cotswold Challenge involves running the length of the Cotswold Way over four days which is about 106 miles (with a few diversions) or thereabouts from Chipping Campden to Bath. They describe it as a challenge as it isn't intended to be a race - of course a lot of people keep a note of their time and the organisers log arrival times at each checkpoint and the finish each day.I did it with Richard and Hugh - Richard and I stayed on a narrowboat in Bath the night before which by coincidence was directly opposite the start of the Kennet and Avon canal ultramarathon I ran a few years ago. Hugh was staying with relatives near Chipping Campden.

The Cotswold Way is very beautiful and extremely hilly. It is a mixture of forest trails, grassy sections over rolling hills, tracks, the odd village and short minor road section.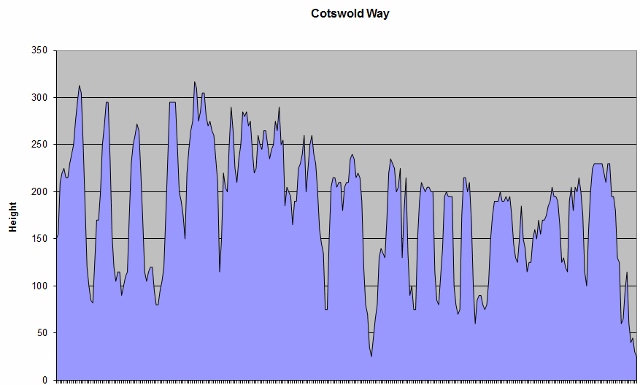 Quite a lot of fast walkers were doing the challenge as well - they mostly set off an hour earlier each day.

The organisers set up a campsite at the location of each day's finish. You could hire two person tents which Richard and I took advantage of - the event company Pillow put these up for us each day. Hugh being hardcore brought his own tent. You could have a single large drop bag which they took from place to place containing your clothes, bits and pieces, sleeping bag and inflatable mattress - well worth having.

The mileage varied from day to day. - about 17 for day 1, 30 on day 2, 26 on day 3 and 32+ on day 4. The route is waymarked and I carried a map book in my running rucksack, some people had the GPS route on their phones. Even so it was easy to miss a sign and go off course - it probably happened to everyone and certainly quite a few times to me. There were small circular plaques on the stiles and fences etc. which changed colour from yellow to blue to green along the way and there were similar signs for other paths. There were also old fashioned wooden finger posts.

I came into this event with my current medical oddities still present - mainly iron deficiency anaemia, mild hypothyroidism and very low white blood cell counts. I've been taking iron supplements for a few months and the recent blood tests showed that the ferritin levels were coming back up but the hematocrit/haemoglobin levels, the real performance inhibitors, were yet to follow - it is a long slow process. The mild hypothyroidism is not at a level to cause medical concern. So I'm not running well or fast but I'd done a reasonable block of training. Originally we thought we'd all run together but I quickly made the decision to let Richard and Hugh go on ahead. I was treating this as a training run for the Robin Hood 100 in September so although the courses aren't remotely similar - that one is a continuous 100 miler but over flat terrain - I wanted to try and average the sort of pace I would be hoping for then.

We all met up on the first day - it was a later start to allow the buses they laid on to travel to Chipping Campden.
There was a good atmosphere and camaraderie and we set off a few at a time to avoid swamping the sleepy high street with a tide of people - there were about 120 of us doing the event.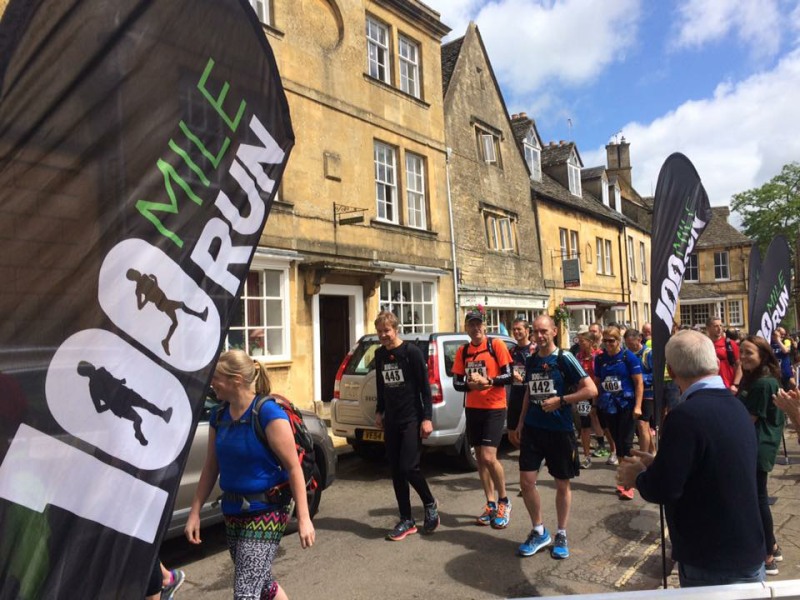 The three of us did run together for a good portion of this one and I was ahead of the other two when I missed my first turning - a last minute shout got me back on route but it is surprisingly demotivating to lose the route for a bit even when it doesn't matter - that's the nature of ultra running and the mental ups and downs. I got my nutrition wrong - I was treating it like a low carb 17 mile training run which I have done so many times without food and drink. However the slower pace and the very hilly terrain made this inappropriate - I found myself getting really low on energy over the last few miles and it was a big lesson - you have to learn to manage resources properly particularly when you are going to do it again the next day. I finished a couple of minutes behind Richard and Hugh, There were ice baths and massages (you paid for these - £5 for 10 minutes) which I had every day and were really worth it. The evening meal was good with a meat or vegetarian option. There was also entertainment - some decent singer/guitarists, I avoided the beer and went to bed early.

The next day was my disaster day really! The weather forecast was bad and together with day 3 it was the hilliest section. I had brought two pairs of running shoes - I wore road shoes on the first day which were comfy and had a bit of padding but had smooth soles - I slipped a lot on muddy sections so for day 2 I switched to my trail shoes - these have grip but are very minimalist with thin soles - they were great on the mud but disastrous on the stony/rocky sections, I got seriously sore feet after the first five miles and had to switch to a much slower pace to preserve them, I told Rich and Hugh to go on ahead. I think the best option would be trail shoes with more padding. I got lost four times I think - one time I looped round and ended up heading back towards slower runners coming up behind! There was another race heading in the opposite direction and we were passing each other a lot around here. This confused a lot of people further on as they were coming up the Gloucestershire Way at a place where there was no sign, so lots of us merrily headed down a huge hill only to have to toil back up it to find the Cotswold Way again.

I can't remember how much it rained during the running but it rained all evening and night which made it difficult to keep everything dry. I passed on the ice bath. However the next day it had cleared up and was going to be fine. I was back in my road shoes and finally felt like I was learning how to approach the event - eat and drink something at all the checkpoints. It got very hot when the sun came out but I stuck to my granny pace and began to enjoy myself. Of course we were always passing other runners or walkers and there was lots of chat and encouragement between everyone as you would expect. It was super hilly again but the route is really very beautiful with lots of great views. We went up Coopers Hill where they do the cheese rolling. The massages were really helpful as my calves tend to cramp a lot after I stop. It was a fine evening so everything could get dry and we had a bigger tent.

Day 4 - it was going to be the longest mileage but much gentler terrain on the whole and the final section has a lot of downhill into Bath. I let Richard and Hugh steam ahead again and enjoyed this one a lot. I carried a few energy bars in my rucksack but mostly ate what was on offer at the checkpoints - pretzels, salted peanuts, Snickers and Lion bars, dried apricots, flapjacks and bananas (not all at once!). By the end of day 4 I never wanted to see another piece of chocolate or anything sugary. At one of the water stops the medic lanced a small blister for me, it's really worth doing preventative treatment like this rather than soldiering on - the medics told me feet problems are the main reason people drop out of ultras. I got into a nice groove and the miles passed on by, I had a really nice day in the sunshine. Soon enough (well ages actually) I was approaching the outskirts of Bath. The organisers suggested we just headed straight for the city centre once we hit the suburbs as the Cotswold Way starts weaving around and at one point when sticking to it I found myself heading up a hill apparently back out of Bath again. The best approach would have been to use Google Maps or something which wise Hugh told me he did, I relied on asking the locals and began a comedy zig-zag across Bath as they all told me a different route - 'it's just down there'. Finally I approached Bath Abbey from probably the wrong direction and in a final act of stupidity reached the front, checked with a taxi driver if it was the right place, walked round three sides looking for the finish and finally phoned Richard - it was round the back and I crossed the low key finish line to some generous applause and bemused stares from passing shoppers and tourists.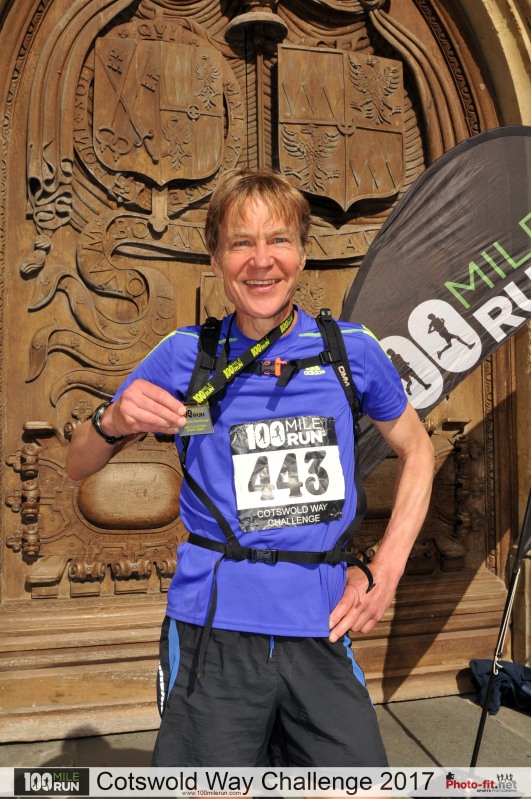 I'm really glad I did this event - I learned so much from it and it gradually turned from a grim slog into a lot of fun. It took me a bit less than 26 hours out on the trail, Rich and Hugh must have been a couple of hours faster I should think. We staggered off to an AirBnB we had booked for the night and drank the celebratory bottle of Prosecco the owners had thoughtfully put out for us before heading out for a Thai meal.