COMRADES MARATHON 29/05/16
The Comrades (Ultra) Marathon in South Africa is such a famous race I'm sure most runners are familiar with it. For those who aren't, here is a brief summary.
It was started in 1921 by Vic Clapham as a tribute to to the suffering and deaths of his comrades during the First World War. He wanted to devise a particularly tough challenge saying no matter how hard it was, it wouldn't compare to what they had to endure. He came up with an approximately 90Km run through the Valley of 1000 hills South Africa's province of KwaZulu-Natal. It changes direction every year. Pietermaritzburg to Durban is the Down Run and Durban to Pietermaritzburg is the Up Run. In practice they both have a lot of both, the course is almost never flat - the Down Run has about 5000 feet of ascent and 7000 feet of descent with the reverse when you are going the other way. It is unusual for an ultramarathon as it is all on roads. That first run had thirty four participants and was won by Bill Rowan in 8 hours 59 minutes. It has been run every year since apart from a break during the Second World War. It was blighted by apartheid for a long period of its history with white only runners until finally accepting black and coloured entrants in 1975. Bruce Fordyce one of the most famous latter-day champions of the race, he won it eight consecutive times between 1981 and 1988 and again in 1990. In 1981 he ran with a black armband to show support for multiracial participation and despite enduring a storm of abuse along the course still won the event.
In common with a lot of other long distance races around the world it was also slow to admit women. There were quite a few pioneers, Frances Hayward was the first (unofficial) finisher in 1923. Full entry status for women also came in 1975.
Nowadays South Africa is rightly proud of its race, the whole event is broadcast live on national TV to huge audience figures and it is a rite of passage to run in it, many South Africans have an ambition to run it at least once.
One of the most notable features of the race is its brutal cut off procedure, the time limit is a strict twelve hours (apart from the first few years it was eleven hours until 2003). At exactly at this moment, the director of the race is standing on the finish line facing away from desperate runners and fires a starting pistol to signify the end of the race. Immediately the finish is cordoned off by a line of yellow jacketed marshals and even if a runner is a yard from the finish, they don't get a finishing time, a medal or anything, in fact they pretty much didn't exist. It's a dramatic moment of sporting ecstasy and agony for the last few finishers and the ones who just come up short, sometimes crawling on their hands and knees in a desperate bid to overcome exhaustion. There also are a few additional cutoff points along the course including at halfway.
There is a ritual to the Comrades medals – you get a different one depending on finish time:
Gold: The first 10 men and women.
Wally Hayward (silver circled by gold ring): 11th position to sub 6hrs.
Silver: 6hrs 00min to sub 7hrs 30min.
Bill Rowan (bronze circled by silver ring): 7hrs 30min to sub 9hrs.
Bronze: 9hrs to sub 11hrs.
Vic Clapham (copper): 11hrs to sub 12hrs.
I got interested in this race quite a few years ago through reading the occasional Runner's World article, watching it online or via you tube, interviews with Bruce Fordyce and more recently through the Marathon Talk/Talk Ultra podcasts. So it became an bucket list ambition to run it, I finally found the time and money to get there, my family were super supportive as always and Richard agreed to do it with me.

We decide to fly out a bit early to allow our legs to recover, we change planes in Dubai and altogether the journey takes over 18 hours so I'd say this is essential. We both wear compression socks all the way. We have hired an AirBnB apartment and get lucky – it is fabulous and well situated. The first thing you notice about the relatively rich neighbourhood we are staying in is the astronomical security – every house is like a fortress with high walls and fences, serious locks and grilles, plaques for armed response services on the walls and all night security guards on the streets. Our host emphasises the need for security, keeping phones and valuables out of sight, not wandering about after dark and not to look like visitors 'look like you own the place'. Violence is a huge problem and it must be very wearing to live like this all the time in this hugely unequal society of haves and have nots. However – all the South African people of all persuasions we meet are super friendly and helpful.
We arrive Thursday evening, quite a bit of Friday is spent at the expo for registration and although we had planned Saturday as a complete rest day, in the end sorting things out, preparing kit, packing race bags for the morning, buying food shopping and eating takes an age and suddenly it is time to get to bed ready for meeting the 3am mass bus departure downtown. We get dressed in our race kit with a warm sweatshirt over the top and walk the couple of miles in the dark to the meeting point. We join a queue for the next coach. Most people look like fit runners in a quiet state of apprehension although there is a small group of burly guys who could be rugby players. They are the only ones who want to jump the queue a bit. The journey on the bus is surreal, everyone else seems to be asleep apart from me but I am sure there are plenty of others in their own little world of quiet anticipation and nervous tension. The bus approximately follows the race route in reverse and there is plenty of time to consider how far it is. Finally we reach Pietermaritzburg and disembark. It is still completely dark but immediately the atmosphere changes to an adrenaline charged one as we wend our way to the Pen C entrance. The entry to the pens is tightly controlled, we are in Pen C and there is a separate entrance gate to A B and C with portaloos, baggage drop etc. inside. Here's one of the first features of Comrades that makes it what it is, the start pens go back to H based on qualifying times and everything Comrades is based on gun time, so if you are one of the slower runners at the back you are already handicapped towards getting inside the unforgiving cut-off times by the amount you lose crossing the start line, this can be up to eight minutes. After getting ourselves sorted there is a further entry gate into the start chute itself. Once in the pen the atmosphere is building. It's cool but not too cold and I decide to run in my singlet from the outset rather than keep a sweatshirt on for the early miles. Very unusually for a race I am carrying my phone in the back pocket of my shorts so I take a quick video of the crowd gathered at the start.

The atmosphere builds with the loud PA, the lights illuminating the start gantry and town hall and finally it is time for the South African National Anthem followed by the awesome Shosholoza and the famous cock crow, then a thunderous start gun and we are off. The first section is mostly a gentle uphill and feels like a big city marathon. There are quite a lot of runners with E-H starts quickly amongst us, some of these are the 'TV Runners' as they have been described to us, who shoot off at the front before fizzling out. We realise later that some of these stay the course though, presumably there are quite a lot of very good local runners who haven't done a fast qualifying race. Everyone's numbers have their first name, their starting pen letter, the number of times they have run Comrades. They are shaded blue for international and green for green number (more than 10 Comrades). They are worn front and back so other runners and spectators know quite a bit about you. The international contingent is less than 10% and they seem to garner special encouragement, I lost count of the number of times I had 'Go Jonathan' or something similar called out along the way.
Comrades like any ultra is all about pacing and resource management. We had read a lot of sage advice based on being sure to really hold back over the first half or you were going to utterly blow to smithereens later on. The course is never flat, you are always going up or down and we had practised a run walk strategy in a lot of our training long runs. We'd also done a lot of hill repeats, going up and down Central Avenue in Greenwich Park, ten times 400 or 600 metres. The first 60-70Km of the down run is really as much up as down. We make sure to walk all the significant hills and we had done some downhill running practice, trying to minimise the eccentric loading and braking which causes acute muscle fatigue in the later stages. So we are flying past people on the downs.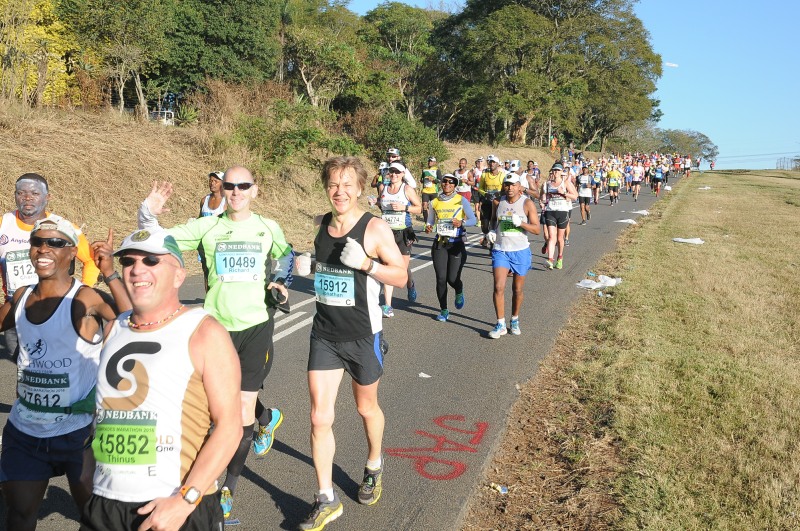 With regular pacing reminders to each other, we are getting things right and it is so far a very enjoyable ultra and possibly the best first section of any race I've ever done. The atmosphere and support is amazing, every so often we come upon a busy section where the road narrowed and it feels like the Tour de France with all the shouting and flag waving. We are wearing 10 hour pace bands which we picked up at the Expo, they turn out to be invaluable as they have target times to various landmarks typically about 10km apart. We are gaining a bit at each one on these and we are about ten minutes ahead of schedule as we reach the highest point of the course at Umlaas Road and continue on to halfway. I am not good at eating on long races but I make sure to have the sports drink at regular intervals, there are really good aid stations all the way along the course, the water and energy drink is in small clear sachets you tear open with your teeth. There are bins everywhere but still people chuck stuff all over the road, something I refuse to do. The marshals and organisers are superb. Approaching halfway Richard and I get separated at a drinks station, I haven't drunk any Coca-Cola for a decade or two but I have read about its powers as ultra rocket fuel so I try some just before a long hill. Sure enough like a new addict I absolutely hurtle down and hit halfway (just short of 45Km) in 4.55.52. I'm not quite sure where Richard is, we find out later I am about a minute ahead. Sadly subsequent attempts at Coke power suffer from the law of diminishing returns and just risk a stomach ache. I continue to use the energy drinks, the occasional half a banana, a biscuit, hopeful drinks of Coke, a couple of pieces of tomato with salt (that's the best!), some cellophane packets of chocolate which I can barely open and one Gu caffeine energy gel which is hazelnut flavour and tastes great compared to the sugar gloop.

The heat is growing steadily and there is strong sunlight in a cloudless sky but surprisingly it never becomes a big issue, there is quite a lot of shade from the trees and hills either side and a steady light breeze. Perhaps we have got lucky with the weather this year.
Richard catches me up some distance further along which is a relief. I have touched the Arthur Newton memorial plaque along the way, another tradition. There are dire warnings of cut-off times as we approach various timing mats; it must be very stressful being close to the limit on this event. We meet the ten-hour 'bus', a group of runners all with a 'driver' pacing them carefully. They must be ahead of time compared to the pacing bands but there will be variations on strategy in play. Around 60-70km is where Bruce Fordyce has said the dedicated down portion of the run really begins. We have had a discussion before the race, if one of us is much stronger during the race he is free to go and by this time I am beginning to be toast. Richard is off up the road and I settle into a more conservative strategy with a lot more walking to be absolutely sure I get to the end.
I pass more and more famous landmarks, loud music systems and mass banks of spectators shouting encouragement. It is odd and uplifting to hear a whole row of schoolchildren dressed in matching formal uniform shouting my name. We go along the Green Mile where the road is marked with messages of encouragement to runners from their friends and family.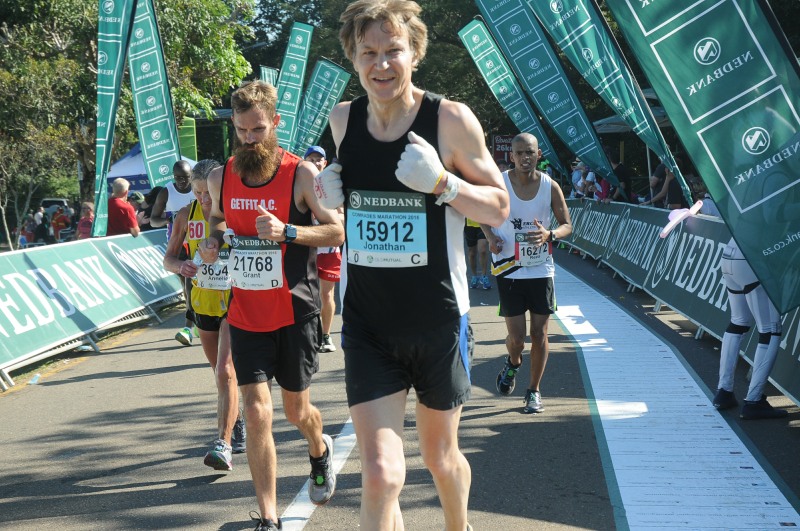 At one point someone in the crowd reminds me I still have on the white cotton gloves from the start bag so I discard them. It was chilly at the start with the altitude and early time and I get cold hands very easily.
I play up to the crowd, shimmying along with the beat and as I am the ultimate dad dancer this has to provide some entertainment. I tell a number of women of all ages how beautiful they are or admire their amazing hats. If I am walking I mime starting to run again or promise to at the top of the next hill. By this time I am dropping behind the 10 hour pace and I have to make a decision whether to get back on. But I know it isn't realistic, the 20km all downhill turns out to have many uphill sections in it and I just run/walk it in. I have been talking to all sorts of runners along the way; it is a very sociable and supportive environment. There are veterans with 20-30 races under their belt, people who've done it a few times and novices. One of the women tells me if we walk the whole of the rest of the way we will finish in 11.09. I know barring a disaster I have it in the bag for a sub-11 bronze medal which is what I came for.
We come down the final very long straight road through downtown Durban, this seems to take forever, then turn sharp left and there is the Kingsmead Stadium. I have seen this so many times watching YouTube clips or the live race stream and here I am running round the grass perimeter, the crowd noise is immense and if there had been a brick wall in the way I'd have run through it. Then with a final right angle bend the finish is there and an exultant sprint to line.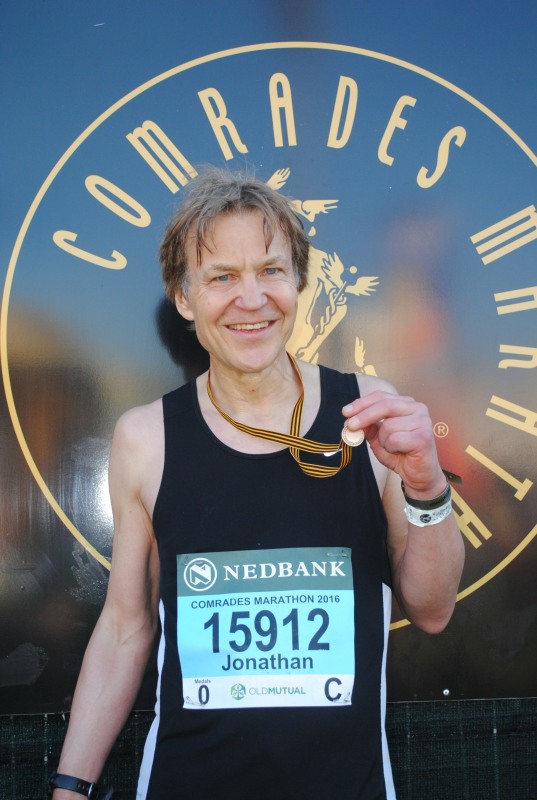 I collect the smallest and most precious race medal, go to find Richard and collapse in the international area. We are sitting on a beanbag drinking tea, eating some food and taking it all in. We are amazed at the constant stream of stretchers carrying prostrate forms out of the international area and then another load out of the stadium itself when we get up to leave. We forgo the schadenfreude of watching the twelve hour cut-off. Richard is patched up in the medical tent after his fall and we make an unintended lap of honour around the outside of the stadium as we find the right road. Then back to the reality of Durban life, we are on a deserted road through the racecourse/golf course walking back to our apartment, it is dark by now and I get out my phone to take a picture of the huge hill ahead we are about to walk up. A car stops and the woman driver insists it isn't safe, we shouldn't have a phone out and gives us a lift home which is so nice of her and spares us the hill to boot.
I am delighted with my result of 10.13.55 and Richard's performance is incredible. He has finished in 9.39.10. We have both got bronze medals. It is true about the downhill running, I've never had such sore legs after a race, they are finally back with me on the Thursday morning. What a race.