OLYMPIC PARK 10Ks
CHASE THE MOON 14/03/18 CHASE THE SUN 11/04/18
I'm so nervous. I haven't done a 10K for a long time and I'm on the DLR to the Olympic Park to run Chase The Moon. It's one of the Run Through organisation's series of races and is due to start at 7.30 on a Wednesday evening. I arrive with loads of time to spare, in fact I may be the first there. I collect my number and timing chip and head off to the cafe to go to the loo - nothing happens. I have a double espresso and do a warm up run. Nothing happens. I drop my bag off and try a final time. As usual I am panicked by this and consider pulling out. I don't want to have to veer off for a pit stop halfway round. But I'm here now, the infectious pre race atmosphere takes over and I'm lined up. The start is right next to the ArcelorMittal Orbit – the red twisty structure you might have seen on TV during the London Olympics, in the shadow of the stadium. It's now renamed the London Stadium and adorned with West Ham's colours but it will always be the Olympic Stadium to me. We were lucky enough to get tickets to one of the morning sessions and watched Mo Farah in the 5K heats, best of all was the pole vault though which is a great event to see live. There are 5K and 10K options, the 5 is two laps and the 10 four laps. It doesn't matter what the race is, when there are multiple options I always have to pick the longest.

We are off. Five or ten years ago I used to consider 45 minutes the watershed for me, if I got under that I was happy. Hardly fast but decent enough for my age I suppose. I'm not in that sort of shape at the moment so I'll just take what I get and it is a useful threshold run during marathon training. The first two laps go by. My bowels are behaving. The 5K runners have peeled off and there are far fewer of us. Someone running alongside asks if I have a time target. I sandbag – 'not really it's just a marathon training run'. He slightly misunderstands, after all we can hardly talk 'what this is your marathon pace?'. I wish!

We started in the twilight but now it is dark. We are chasing the moon. Now I've just got to hold it together for the final lap. It's a great course, pretty flat with just a few undulations, the last of these comes and there is then a big curve round to the finish. I belt as fast as I can to the line. As usual when I've been nervous before the start, I'm stoked at the finished. 47.10 which is hardly earth shattering but it will do me. I head back to the DLR pretty content.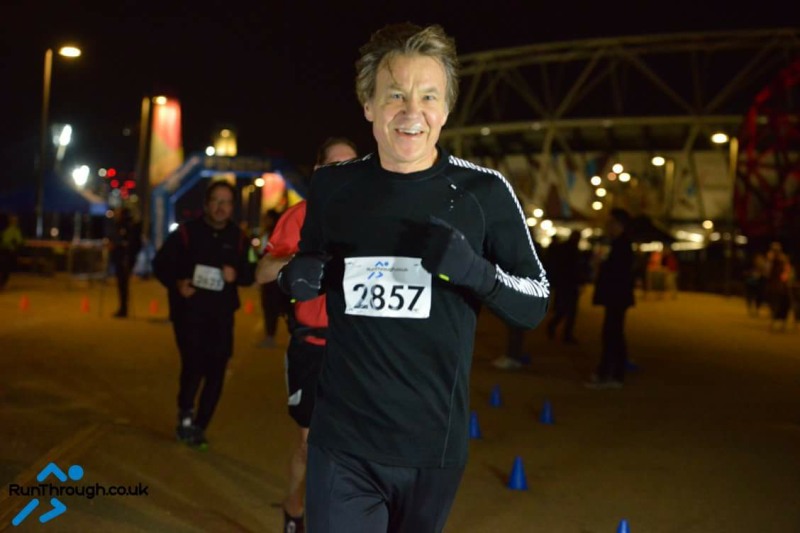 A month later we are back again. This time it is Chase the Sun - we are going to finish in the remains of the daylight. Richard is with me and I introduce the idea of a double espresso - last time it was to try and move my bowels but maybe it can give us a caffeine energy boost. We have our ritual drink and head to the start. I've learnt not to try and stay with Richard on a short race so we settle in to our own paces and after the first section he starts to pull away. The race unfolds much the same as before - concentrate, hold the pace, click off the laps. This time I glance at my watch after two laps - 23.25. I just about hold an even pace and finish in 46.57, so at least I have won my mini course PB battle. I'm also first V60 again - are all the other oldies wrapped up warm with their cocoa? I find Richard and - astoundingly - he has broken his all time 10K PB with 43.46. That eclipses his previous mark from 2009! It is very inspiring.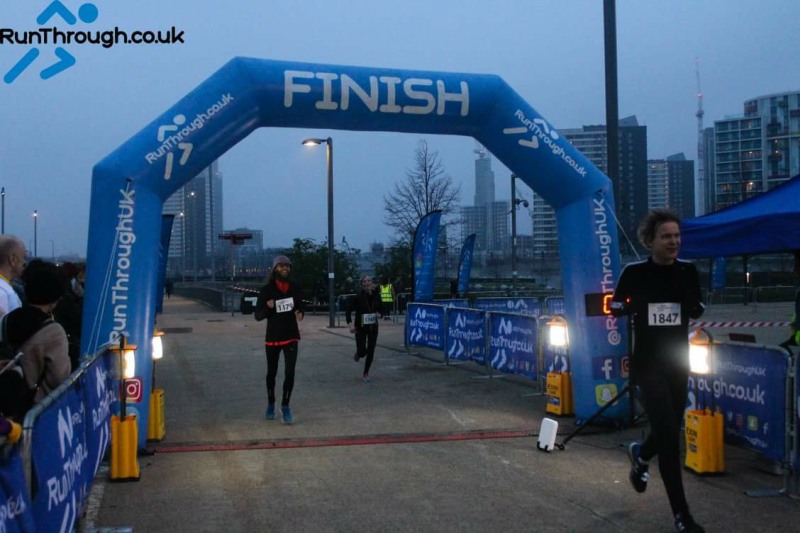 Same top, same run tights, same shoes. Don't know about the socks!