BONN MARATHON APRIL 2014
Can't count.
Once again this is just Richard and I. Bonn's location in northern Germany means we can travel there by train which is supposed to be kinder on the body and legs than flying. We do have to get four trains, the Eurostar from St Pancras or maybe Ebbsfleet to Brussels, a fast train to Liege where we last came for the Maas Marathon and another two to Bonn. We have a cheap hotel near the middle of town and spend the next day registering. taking a leisurely stroll around the park and checking out the end of the course. The finish is right in the centre outside the Town Hall and the last kilometre is through the narrow streets and is cordoned off with barriers either side as if they are expecting a large crowd. It is slightly uphill which is a bit cruel but it looks like it will be noisy and fun. At the start of the run in is a big bright yellow inflatable arch with 1000m to go written on it.
We are in the first wave on the back of our recent race results which is a little fillip for the ego and we line up the next morning feeling good. It's a nice two lap course through the streets and we cross the first bridge for a loop the other side of the river. It's very flat and the bridges are the most significant humps. After crossing back over there is a out and back section before the second lap.
Halfway comes in 1.44.58. any kind of negative split will see me duck under 3.30. Richard gets a bit ahead but my pace isn't falling off. It is a long road with hardly any spectators and we are now into the hard miles. It's not a big event but there are a few runners spread out around me. After crossing back for the second time we are running alongside the river and looking at the race photos afterwards I can see a couple from around here, I still look human and I am smiling for the camera, it's just an act.
Finally the turnaround at the far end of the second out and back arrives. This makes no physical difference but it is a psychological boost of some kind. I don't tend to study race routes too closely, I prefer a bit of surprise but I do know this is the final stretch back to town, just over 6Km. There are clear kilometre markers all the way along.
Inevitably I am around the 3.30 pacer. As we approach the centre of town it is getting very tough but I think I am holding on. The 3.30 pacer has got a bit ahead but I decide he is just giving a bit of a safety margin. In reality he his holding his pace spot on and I am sliding a few seconds behind.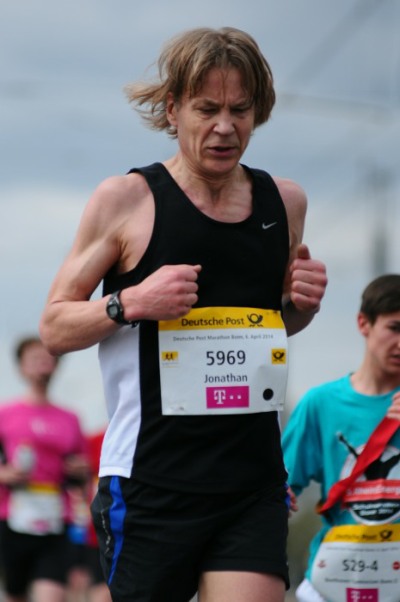 My ability to count and think straight diminishes hugely as tiredness takes over. I've run enough marathons to know exactly how far it is but I am clicking off the kilometres and I somehow have 42Km dead stuck in my addled mind. The 40K mark has gone by and around now I must be nearing 41Km - where has the big yellow arch we saw yesterday gone?
As most marathon runners including me know, a marathon in metric terms is 42,195 metres, plus a little bit to allow for standard deviation when course measuring. I've read an article about Hugh Jones, the 1982 London Marathon winner who is now a course measurer, the most accurate way is still by bicycle with a Jones Counter on the wheel.
Anyway this is a fateful mathematical error. The yellow 1000m to go arch arrives on cue a couple of hundred metres later and instead of being neatly on track I am now about half a minute or so off the pace. People who don't run are often surprised watching that a runner narrowly in second place in a big televised event can't find an extra burst coming towards the line. Everyone with some experience of pacing on their personal limit knows better and half a minute over a kilometre is an absolute gulf. As realisation dawns I try to push on and I do find a little something. The small uphill slope is taking its toll though. I've had breathing difficulties occasionally since the big chest infection but only once or twice in races, notably the Mid Kent 5 miler back in 2012. The crowd is now thick either side of the crash barriers and the noise bouncing off the buildings is absolutely deafening. I just cannot breathe though and I have to stop and bend double for a moment. It is a few seconds at most and it is enough to recover sufficiently for my desperate sprint to the line. The race photo doesn't lie, I look absolutely shattered and I have probably just looked up at the race clock to confirm I won't get there. We have started so close to the front that there are only a few seconds grace to the chip time and I finish on 3.30.06.
It is always huge relief to finish of course and in the final photo taken with the medal round my neck I have once again tried to pull off the trick of reversing the twenty or so years I added on in the finishing straight. Grinning inanely always helps.
Richard has finished in 3.28.41, a new PB and a really tremendous performance. He quickly finds me and we walk back through the park to the bag drop area. I am physically and emotionally shattered and I desperately need a portaloo. They also have showers at the finish; I get dressed and we have a few hours to find something to eat before getting the train back that evening. We sit in a outdoor pizza joint. If you are in the middle of the pack nobody except you cares what time you finish in and I have done a significant PB after all. I probably bore Richard with my morose state and quick recap of my mathematical ineptitude - could I have changed things if my brain had kept working? It doesn't make any difference and I have given it everything I had. We have a nice simple meal and I hope I am good company, we have both run a great race. It is time for the four trains back to London.
Bonn is just the size of marathon I like, not too crowded to feel like you are running in a queue but a decent enough field to create a great atmosphere and razzmatazz. It is impeccably organised and I'd be happy to run it again.